Rosh Hashanah Menu ~ Have a Tasty New Year!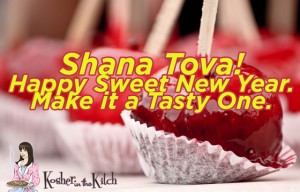 Hello Kitchies,
This year I will be spending Rosh Hashanah with my in laws, which means I am going to be enjoying some delicious dishes and will leave with a ton of new recipes for the site! If you don't want to stress about planning your holiday menu, I suggest using a selection of good ol trusted recipes and spicing it up with a handful of new ones. Look below for some of our fav holiday treats!
Wishing you all a happy and sweet new year! Make it a tasty one.
Happy Kosher Cooking!
xxo Nina – your kosher hostess
Rosh Hashanah Menu:
**Salads & Dips**
**Fish**
SAUTEED TILAPIA ALMONDINE WITH BRAISED RED CABBAGE
**Chicken & Beef**
BEEF TAJINE WITH LEMON OREGANO SAUCE
SWEET CHIPOTLE PULKAS (DRUMSTICKS)
BALSAMIC-ROASTED CHICKEN BREASTS
**Sides**
MINI FLAVORFUL BROCCOLI KUGELS
MIXED SWEET AND WHITE POTATOES
**Dessert**
FUDGEY FLOURLESS CHOCOLATE CAKE