Pasta Salad with Broccoli and Pine Nuts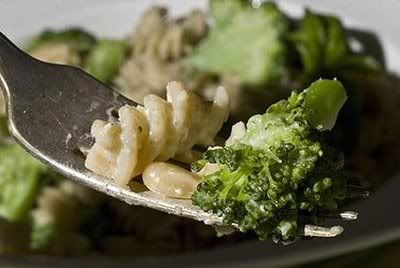 I recently made this pasta salad for a dinner party and as usual, it was a hit! It's a great way to make your favorite high carb dish a little more nutritious!
Ingredients:
2 cups Fusilli Vegetable Pasta, uncooked (or substitute your fave pasta)
1 small head broccoli, chopped into big chunks
3 cloves fresh garlic, finely minced
1/4 cup pine nuts and/or almonds
5 mushrooms, sliced
1/2 small purple onion, diced
1/4 fresh parsley, finely chopped
1/2 cup light mayonnaise
1 tsp. + 1 tbsp. olive oil
1 tsp. ground black pepper
2 tsp. salt
Directions:
1. Cook pasta according to package directions. Drain and rinse in cold water to cool. Set aside in large mixing bowl.
2. Bring a pot of water to a boil. Add broccoli and 1 teaspoon of salt and let cook uncovered until broccoli is just tender (a fork should easily pass through a broccoli floret, but do not overcook!). Drain and rinse in cold water to cool. Chop into finer pieces and add to pasta.
3. Over medium heat, in a small skillet or frying pan, add 1 teaspoon of olive oil. When your pan gets warm, brown garlic and pine nuts. Add your garlic and pine nuts to pasta.
4. Stir in the remaining ingredients to the pasta and serve! Add more or less salt and pepper according to your taste.
~ Recipe submitted by Material Maidel