Ground Lamb on Cinnamon Stick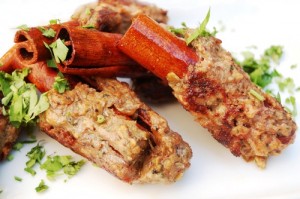 These are super easy to prepare, freeze well uncooked, and are a fun addition to any type of menu including Thanksgiving and Hanuka!
Ingredients:
1 lb ground lamb
1/4 c tart cherry juice or pomegranate juice
1/2 tsp ground cinnamon
1/2 tsp allspice
1/4 tsp ground ginger
1/4 tsp ground cloves
1/8 tsp ground cardamon
1/2 shredded or finely chopped medium onion
1/4 c toasted pine nuts
18 cinnamon sticks
Directions:
Combine all ingredients in a large non reactive bowl. Form into round ball shape. Firmly insert one cinnamon stick through it. Arrange on tray standing upright(At this point they may be frozen on a tray)cook in preheated 350 degree oven for 15 minutes.
May be served with apricot wasabi dipping sauce.
Apricot Wasabi Sauce:
1/2 c apricot preserve
3 TBSP soy sauce
1 TBSP wasabi sauce (such as "golds")
Combine all ingredients together. Delicious as a dip for chicken beef and lamb.
~ Recipe from Debbie Gindi featured on "The Jewish Hostess"