Poached Pears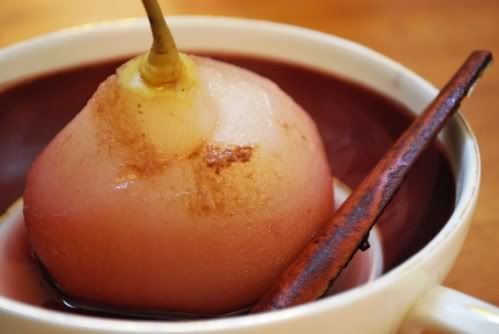 'Tis the season to be jolly….yes, even in Israel, wintry festiveness has settled upon us (in the form of Channukah, festival of lights) and we are indulging in donuts, latkes, and other seasonal delights. Personally, I find myself missing the mince pies…
Happily, these pears went some way towards fulfilling that craving. Warm, spicy, rich and comforting, a perfect dessert for a chilly winter's evening. Surprisingly easy to prepare, the best thing about them is the steaming mulled wine left over once you have served the pears.
Ingredients:
2 small cinamon sticks
125g sugar
300ml red wine
150ml water
thinly pared rind and juice of 1 small orange
4 firm pears
frozen vanilla yoghurt or ice cream to serve
Directions:
1. Place the cinnamon sticks on the work surface and with a rolling pin, slowly roll down the side of the cinnamon stick to bruise. Place in a large heavy-based saucepan.
2. Add the sugar, wine, water, pared orange rind and juice to the pan and bring slowly to the boil, stirring occasionally, until the sugar is dissolved.
3. Meanwhile peel the pears, leaving the stalks on. Cut out the cores from the bottom of the pears and level them so that they stand upright.
4. Stand the pears in the syrup, cover the pan and simmer for 20 minutes or until tender. Remove the pan from the heat and leave the pears to cool in the syrup, turning occasionally.
5. Arrange the pears on serving plates and spoon over the syrup. Decorate with orange slices if you wish, and serve with ice cream or frozen yogurt.
~ Recipe submitted by Joanne Mandel of the delicious food blog, Eat Love Jump