Strawberry Stuffed Cupcakes with Strawberry Frosting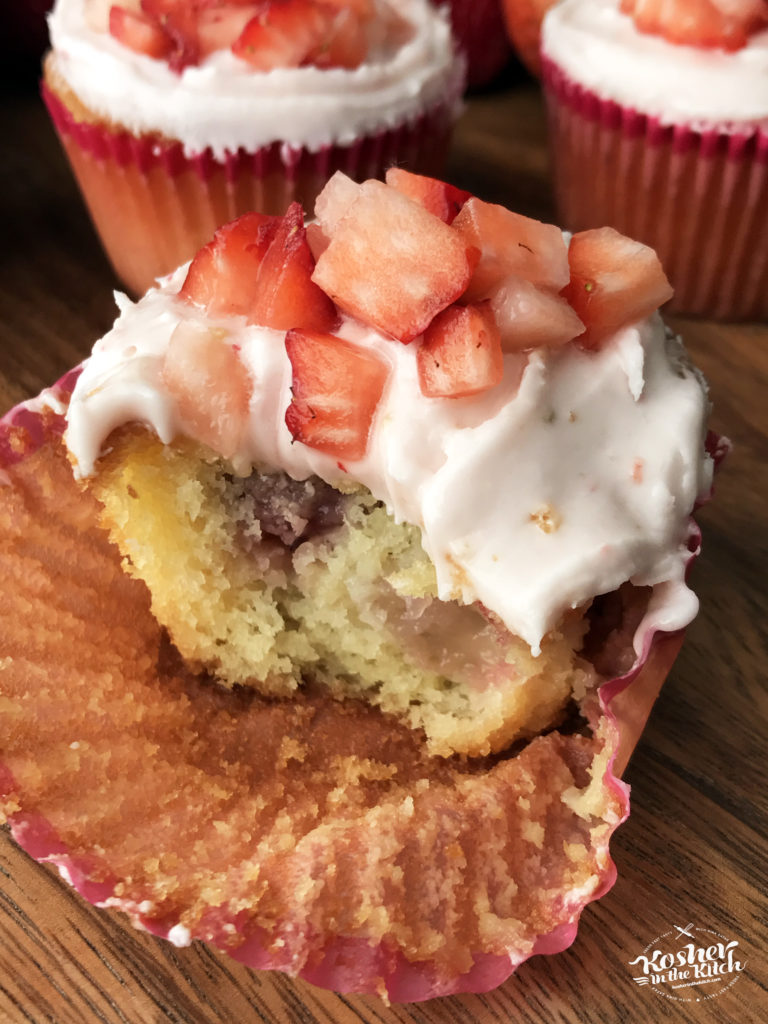 Ingredients for Cupcakes:
2 cups of flour
1 and 1/3 cup of sugar
3 teaspoon baking powder
1 teaspoon salt
1/2 cup of oil
1 cup of orange juice
2 eggs
1 teaspoon vanilla extract
3/4 to 1 cup of strawberries, cut into bite sized chunks
Directions for Cupcakes:
Combine ingredients in a large mixing bowl. Using an ice cream scooper, fill cupcake liners about 3/4 way full. Bake on 350′ for about 22 to 25 minutes. Allow cupcakes to cool off before frosting with strawberry frosting. Optional, garnish with freshly diced strawberries.
Tips & Tricks: You can also bake batter as a cake in a 9×13 pan. Bake for about 45 to 50 minutes. Allow to cool off before frosting.
Ingredients for Frosting:
1 box of confectioners powdered sugar
1/4 cup of soy milk (almond milk or water can also be used)
1 tsp. vanilla extract
1 stick of margarine, softened to room temperature
2 to 3 strawberries, chopped
Directions for Frosting:
Cream margarine then add powdered sugar, soy milk, and vanilla extract and blend until smooth. Add chopped strawberries and blend well. If you want a thicker frosting, add more powdered sugar.