Sauteed Tilapia Almondine with Braised Red Cabbage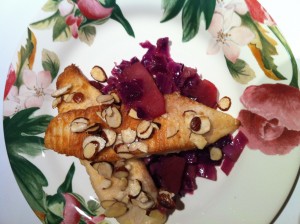 Tilapia is a firm fleshed white fish with a deliciously mild and sweet taste. The almonds offer a nice
crunch and the slightly sweet and sour flavor of the cabbage balances the dish perfectly.
Serves 4. Prep time: 20 min. Cooking time: 30 min.
Ingredients
4 tilapia fillets
¼ lb. pareve margarine (or butter if you want it to be dairy)
½ cup flour
½ teaspoon black pepper
2 lemons
1 cup sliced almonds
1 small red cabbage
1 large shallot
1 large Granny Smith or other crisp tart apple
3 tablespoons vegetable oil
1 cup apple juice/cider
2 tablespoons balsamic vinegar
1 teaspoon salt
Equipment:
2 skillets- one with cover
Colander
Oven to table serving platter
Directions:
Core and slice cabbage into ¼ inch slices. Place sliced cabbage in colander and rinse well. Peel and chop shallot. Peel, core and slice apple thinly. Pour oil into skillet and heat over medium flame. Add chopped shallot and sauté until soft. Add sliced cabbage and mix well until cabbage is coated in oil. Add sliced apple, apple cider and vinegar. Stir well and cover. Braise over low heat stirring every 10 minutes or so to be sure
cabbage is cooking down but not burning. The cabbage should take about 30 minutes to cook. Prepare tilapia while cabbage is cooking. Remove center bone from fillets. Rinse and dry fillets. Mix flour and pepper on a flat surface. Dredge fillets on both sides in flour and set aside. Melt two tablespoons margarine in other skillet over medium-high heat. Add two or three fillets so that they fit comfortably and are not crowded in pan. Sauté tilapia 3-4 minutes on each side or until flour has browned slightly. Transfer fish to platter, cover with foil (or keep warm in 325 F. oven). Repeat process adding margarine to pan-two tablespoons at a time- until all the fish has been cooked. Squeeze juice from one lemon over cooked fish. Keep warm. Add sliced almonds to remaining margarine in pan (add two tablespoons more if necessary) and stir until they toast. Squeeze juice from remaining lemon in pan and stir well. Pour contents of pan over tilapia fillets.
To Serve: You can serve the Tilapia separately from the cabbage or serve it like I did in the
picture. Make a bed of braised red cabbage and arrange the 2 tilapia fillets over the cabbage.
~ Recipe submitted by Gloria Kobrin the Kosher Cookbook app!