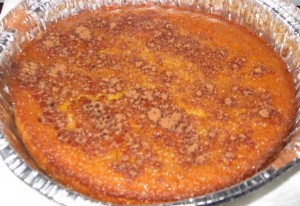 Ingredients:
12-16 oz of cooked butternut squash
1 cup vanilla soy milk or non-dairy creamer
splash of canola oil (or not)
3 eggs or 1 cup of egg beaters
1/2 cup flour
1/2 cup sugar
1/3 cup packed light brown sugar
1/2 tsp. salt
some cinnamon (to mix into the batter and to sprinkle on top)
Directions:
Blend all ingredients. Pour into a pan or a few pans. Sprinkle cinnamon on top. Fills 1 regular size frozen pie shell (pre-cook for 15 minutes before pouring batter in) plus a small round tin.
Bake on 350 degrees for 1 hour and 25 minutes.
~ Recipe submitted by S.K.