Peanut Butter Ice Cream with Brownie Bits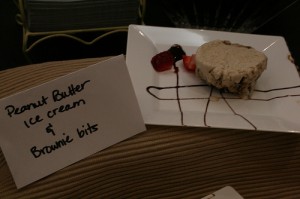 <Brownie Bits:
1 c sugar
½ c flour
½ tsp baking powder
1/3 c cocoa
Pinch of salt
2 eggs
1/3 c oil
Directions:
Preheat oven to 350 Combine ingredients and mix well. Place the mixture in a 9 x 13 inch baking pan. Bake for 30-40 minutes. When still warm (but not hot) cut into little cubes, about the size of a postage stamp or smaller.
 
Peanut Butter Ice Cream:
1 half gallon Klein's vanilla ice cream (defrosted)
¾ c peanut butter
½ c confectionary sugar
Directions:
Combine above ingredients. Gently mix in the brownie bits. Refreeze in disposable muffin tins. When serving pop out the ice cream by pushing the bottom of the tin inward. Serve with a dribble of chocolate syrup, strawberries or blueberries.
Yields: 15-20 "cupcakes."
~ Recipe submitted by Chanel Lipskier