Yummy Mac and Cheese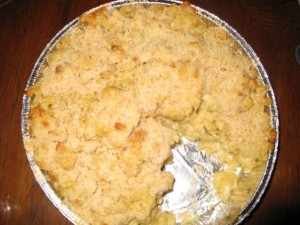 Ingredients:
8 oz macaroni
4 Tbsp margarine/butter
1/4 cup flour
2 cups milk
8 oz shredded cheddar cheese (or mozzarella, or mixed cheese)
1 Tbsp dried parsley flakes
salt and pepper
2 oz plain breadcrumbs (Jason's)
2 oz grated Parmesan cheese
Directions:
Preheat oven to 350. Use a 10 inch round tin pan sprayed with Pam.
Cook macaroni as directed on package. Drain well.
Melt margarine/butter in a pot. Add flour and cook 2 minutes, stirring. Stir in milk. Bring to a boil, stirring constantly, and simmer until thickened, about 5 minutes.
Remove pan from heat. Add macaroni, shredded cheese, parsley, salt, and pepper. Mix well.
Transfer mix to round tin pan.
Toss together breadcrumbs and Parmesan cheese. Sprinkle over the macaroni/cheese mixture.
Bake until top is golden brown. About 30-35 minutes.
~ Recipe submitted by Sarrit Kovacs