Spiced Gazpacho with Curry Cream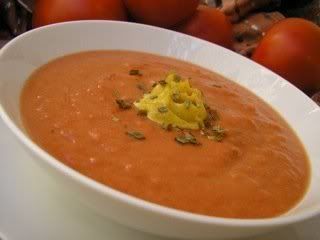 This was previously posted on www.ou.org
Think gazpacho is a potchke? Not this recipe, it tastes even better using seasoned canned tomatoes than fresh, healthier because cooked tomatoes have a higher level of antioxidants and it's so much easier!
SOUP:
Ingredients:
1 (28 ounce) can diced tomatoes seasoned with garlic
2 tablespoons tomato paste
1 tablespoon mayonnaise
1 tablespoon curry powder
1 teaspoons sugar
1/2 teaspoon rice vinegar
1/2 teaspoon salt
1/4 teaspoon pepper
dash liquid hot pepper sauce, optional
1 cup water
CURRY CREAM:
Ingredients:
1/4 cup (pareve) sour cream
1 tablespoon mayonnaise
2 teaspoons curry powder
green onions, cilantro or parsley, chopped, optional
Directions:
1. Place all soup ingredients in the work bowl of a food processor. Process until well blended but not pureed. Remove to a 2 quart plastic container. Stir in up to 1 cup water until desired consistency is reached. Refrigerate several hours or overnight, if possible.
2. In a small bowl, stir together ingredients for Curry Cream sauce. Set aside until ready to serve.
3. Serve cold, topped with a small dollop of Curry Cream and chopped green onions, cilantro or parsley, if desired.
Makes: 4-6 servings
~ Recipe submitted by Renee Chernin