Whole Wheat Banana Peanut Butter Bread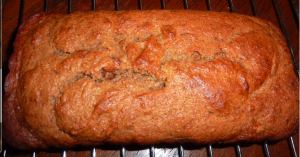 Ingredients:
2 large ripe bananas, mashed
1 egg
1 tsp. vanilla extract
1/3 cup canola oil
1/2 cup honey
1 and 1/2 cups whole wheat flour
1 tsp. baking soda
1/2 tsp. salt
1 tsp. pumpkin spice
1/2 cup creamy peanut butter

Directions:
Preheat oven to 350 degrees. Grease 2 (2 lb.) loaf pans. In a large mixing bowl, beat bananas, egg, vanilla, oil, and honey, for 1 minutes on low. Mix together flour, baking soda, salt, and pumpkin spice. Blend into banana mixture. Stir in peanut butter. Pour mixture into the 2 greased loaf pans (they should be half-filled).
Bake for 45 minutes to an hour. Ready when a toothpick comes out clean.
~ Recipe submitted by S.K.