Easy and Delicious Bread Machine Challah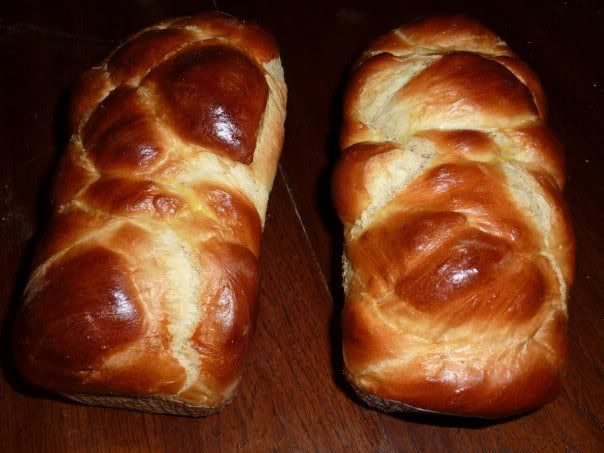 This recipe makes 2 medium sized challahs and 2 large rolls.
Put the following liquid ingredients into bread machine pan:
1 and 1/2 cups warm water
a tiny bit more than 1/2 cup oil
1/3 cup egg beaters (or 1 egg)
Put the following dry ingredients into the bread machine pan (except for yeast):
6 cups white flour
a little over 1/2 cup sugar
2 tsp. salt
Use finger to form a well (little hole) in the flour and pour in yeast (2 pkgs. of active dry yeast – rapid rise). Make sure that the yeast does NOT touch any liquid.
Close the lid of the bread machine and select the "Dough/Pasta" setting. Press "Start." About 10 minutes into the kneading cycle, open the lid and scrape the dough from the sides of the pan into the dough so that all of the flour in kneaded in. Also, at this point you can see if you need to add a bit more flour (if the dough is too watery) or a bit more water (if the dough is too dry). When the dough is done rising (takes about an hour and 1/2), shape the challah and let it rise 30 more minutes. Then bake for about 30 minutes on 350 degrees.
~ Recipe submitted by S.K.