Quinoa Stuffed Chicken Breasts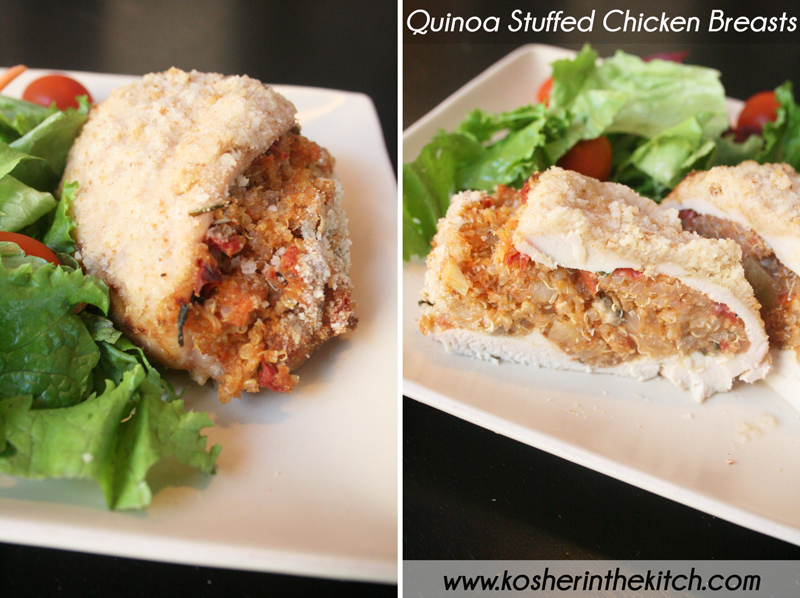 Ingredients:
1 cup of quinoa, uncooked
2 cups of vegetable broth, chicken broth or water
1 onion, diced
4 cloves of garlic, diced
1 can of diced tomatoes
Handful of mushrooms, chopped
1 tablespoon freshly chopped parsley (you can swap for basil or cilantro if you like the taste of those better)
1/4 tsp. salt
1/4 tsp. black pepper
1 package of boneless, skinless chicken breasts
1/2 cup of bread crumbs plus more for topping
1 8oz. can of tomato sauce or 1 cup of honey mustard
Directions:
1. Place quinoa and broth in a pot, bring to a boil then lower flame and simmer until liquid is absorbed. Fluff with fork, then set aside.
5. In a large frying pan, saute the diced onion and 4 garlic cloves until tender. Add the can of diced tomatoes, chopped mushrooms, chopped parsley and salt and pepper. Cook for 5 minutes.
6. Remove from pan and put tomato mixture in a bowl. Add 1/2 cup of breadcrumbs, mix well. Add 1 cup of cooked quinoa. Mix well.
7. Take chicken breasts, and pound thin or cut in half so it's thin
8. Place in a greased baking dish, and fill the center of each chicken cutlet with the quinoa mixture, then fold over in half so the quinoa mixture is covered.
9. Drizzle tomato sauce on top of stuffed chicken, or spread honey mustard on top of chicken, then sprinkle bread crumbs on top.
10. Bake, covered with foil in oven on 400′ for 30-45 minutes until cooked through.
~ Recipe submitted by Nina Safar