Chicken Rainbow Salad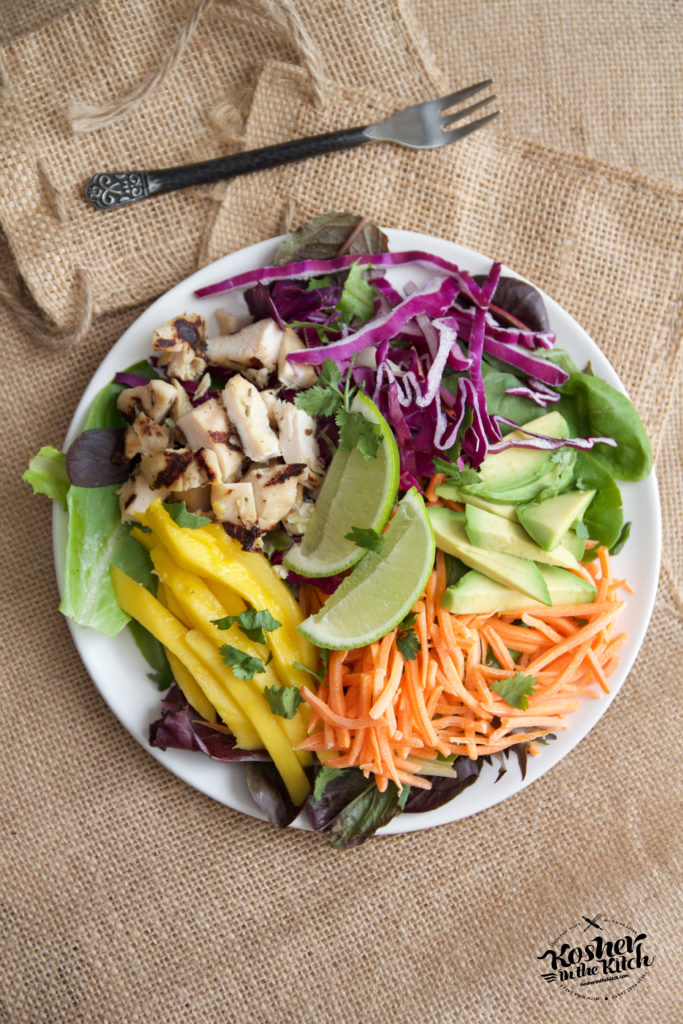 If eating the rainbow is the way to a healthy diet, then start right here with this vibrant and flavorful salad. An assortment of fresh and colorful vegetables pair up with grilled chicken and mango to create an easy and satisfying meal that also happens to be photo friendly. I always say I like a salad that tastes so good I forget I am eating salad and this one hits the spot. Sweet mango, creamy avocado, and crunchy cabbage along with zesty lime juice create a nice blend of taste and texture with each bite. If you have toddlers in the house who are not a fan of salad (much like my son) serve the chicken slices and avocado with a side of rice, couscous or baked potatoes.
Ingredients:
3 cups romaine lettuce
1 cup shredded carrots
1 cup shredded purple cabbage
1 avocado, thinly sliced
1 mango, thinly sliced
2 large pieces grilled chicken, thinly sliced (recipe below)
1 lime
1 bunch of cilantro, chopped
Directions:
Place lettuce on a serving plate. Layer sections of carrots, purple cabbage, avocado, mango and chicken on top. Squeeze fresh lime juice over salad and garnish with freshly chopped cilantro.
Tips & Tricks: For a thicker dressing combine equal parts lime juice and olive oil. Season with salt and pepper. Combine well then serve over salad. To make this a dairy meal, skip the chicken and serve with crumbled feta instead. This dish would make a great Shabbat lunch as it tastes good at room temp and the veggies and chicken can be stored in separate ziplock bags until ready to serve.
Grilled Chicken
2 boneless skinless chicken breasts
1 tablespoon olive oil
1/4 teaspoon salt
1/4 teaspoon black pepper
Combine chicken, oil and spices in a large ziplock bag. Heat a grill pan then cook chicken on both sides until cooked through and no longer pink.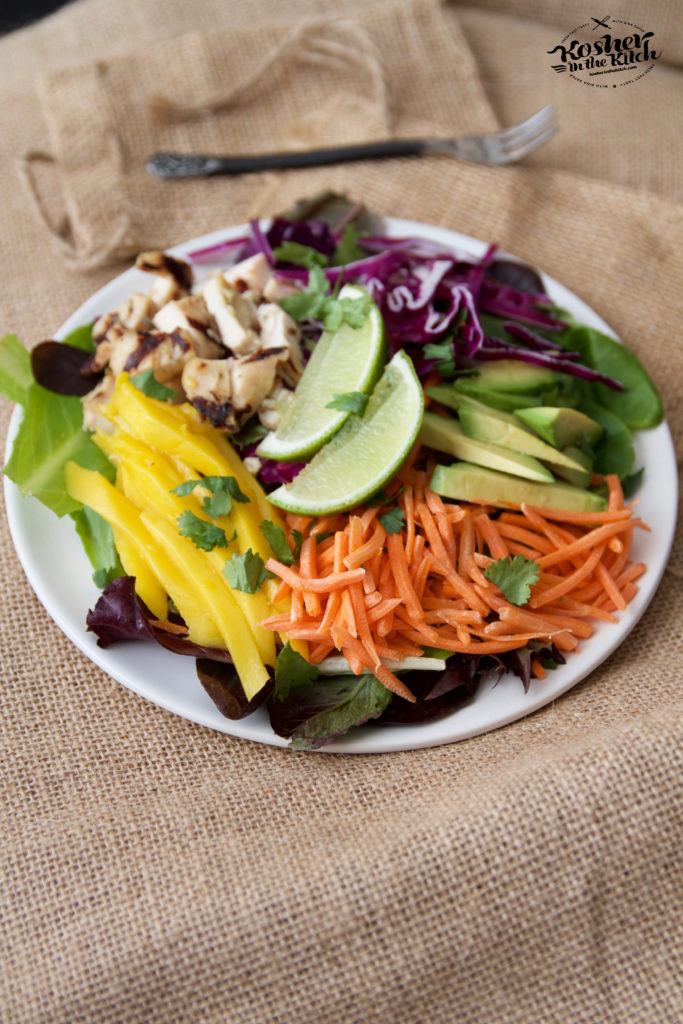 ** This recipe was created for and originally appeared in Mishpacha Magazine Family Table.