Quinoa Stuffed Mushrooms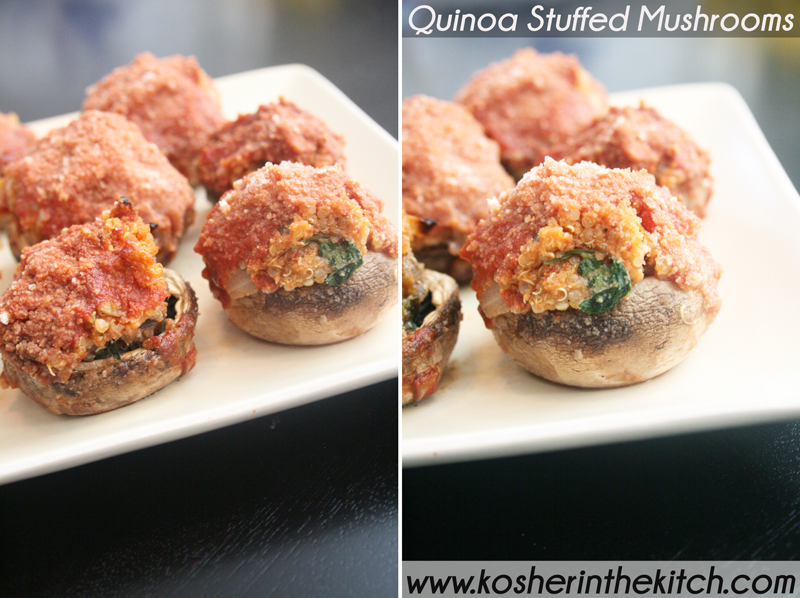 I am going through a quinoa craze. I love the stuff! It's satisfying, and goes with just about everything. These mushrooms are stuffed with a savory tomato quinoa mixture that almost tastes like meatballs. That's how Zach of The Yiddish Players Club described them! (which of course got me thinking of the next dish I MUST whip up, Quinoa Meatballs!)
*Tips/Tricks:
I had a lot of leftover quinoa mixture, so I decided to stuff boneless, skinless chicken breast with it and it came out GREAT! You could also stuff a baked potato with it,buy two containers of 8 oz. mushrooms so there are more mushrooms to stuff, or eat it plain.
Ingredients:
1 cup of quinoa, uncooked
2 cups of vegetable broth, chicken broth or water
1 onion, diced
4 cloves of garlic, diced
1 can of diced tomatoes
1 8oz. container of mushrooms ( I got mushroom stuffers, but button mushrooms or any other would work)
1 tablespoon freshly chopped parsley (you can swap for basil or cilantro if you like the taste of those better)
1/4 tsp. salt
1/4 tsp. black pepper
1/2 cup of bread crumbs plus more for topping
1 8oz. can of tomato sauce
Directions:
1. Wash and clean mushrooms with a paper towel.
2. Chop off mushroom stems and set aside.
3. Place mushroom caps in a baking pan.
4. Place quinoa and broth in a pot, bring to a boil then lower flame and simmer until liquid is absorbed. Fluff with fork, then set aside.
5. In a large frying pan, saute the diced onion and 4 garlic cloves until tender. Add the can of diced tomatoes, chopped mushroom stems, chopped parsley and salt and pepper. Cook for 5 minutes.
6. Remove from pan and put tomato mixture in a bowl. Add 1/2 cup of breadcrumbs, mix well. Add the cooked quinoa. Mix well.
7. Scoop quinoa mixture into the mushroom caps.
8. Drizzle tomato sauce on top of stuffed mushrooms, sprinkle bread crumbs on top.
9. Bake in oven on 400′ for 20-25 minutes until top is crispy and mushrooms are tender.
~ Recipe submitted by Nina Safar