Eggplant Rollatini and Garlic Bread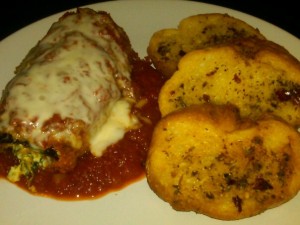 For the Eggplant:
slice 2-3 medium eggplants lengthwise to create flat/wide slices, salt each side of each slice and allow to sit for a few minutes. Wipe off excess liquid from eggplant slices then coat with flour, then beaten egg, then breadcrumbs (I like pereg but any brand will do) lay each breaded slice of eggplant on a cookie sheet and spray liberally with PAM. bake uncovered at 350 until golden brown, remove from oven and allow to cool slightly.
While the eggplant bakes.. prepare the filling:
Combine a tub of ricotta (15oz) with a thawed container of frozen spinach (squeeze out as much water as possible before combining), 1 egg (lightly beaten), 1/4 tsp each black pepper, dried basil, dried oregano, dried parsley and dried rosemary (crush them first in the palm of your hand to revive the herbs, then add), add about 1/2 tsp salt and 1/4 cup Parmesan and 1/4-1/2 cup shredded mozzarella. Mix well. Lay a slice of eggplant flat in front of you, place about 2 tbsp filling at one end and roll. Repeat with all slices, place each slice in a baking pan seam side down and spoon a little store-bought marinara over the top. Sprinkle with some more shredded mozzarella and bake covered for a few minutes until melted and bubbly.
For the Garlic Bread:
Slice French or Italian bread into slices keeping them together at the base (don't cut all the way through the bottom). Melt 1/2 stick margarine and combine with 1/4 cup olive oil, 2-3 minced garlic cloves, 1/2 tsp each garlic powder, dried basil and crushed red pepper flakes, 1 tsp dried oregano and salt to taste (about 1/4 tsp). Mix well and use a spoon or pastry brush to spread the herb oil on each slice of bread. Wrap in foil and place into a hot oven until heated through.
ENJOY!!
~ Recipe submitted by Esty Adler Wolbe