Pomegranate Swirl Cheesecake with Chocolate Topping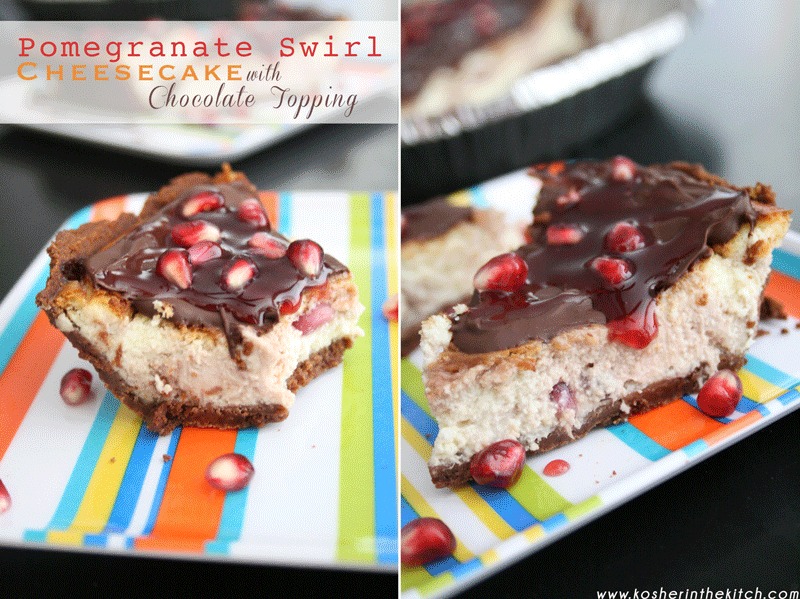 My favorite creamy cheesecake (the best cheesecake and also easiest cheesecake you will ever make!) gets a holiday makeover with the addition of tart pomegranates and a crunchy chocolate coating on top.  The pomegranate seeds add a nice satisfying crunch while the sticky glaze completes this delicious dairy delight.
Ingredients:
16 oz. cream cheese (room temperature)
16 oz. sour cream
2 eggs
1/2 cup of sugar
1 tsp. vanilla extract
2 ready made crusts (6oz. each) can be graham cracker or chocolate
8 oz semi-sweet baking chocolate for chocolate topping
Pomegranate Syrup
Pomegranate Syrup:
4 cups pomegranate juice
1/2 cup sugar
1/4 cup freshly squeezed lemon juice
Combine ingredients together in a pot. Heat on a medium to high flame allowing sugar to dissolve, then lower flame to a simmer and let it simmer until thickens. (this will take anywhere from 45 minutes to an hour.) Allow sauce to cool off then combine it with 1/2 cup of pomegranate seeds.
Directions:
Combine cream cheese, sour cream, sugar and vanilla extract until smooth. Slowly add in eggs and beat until combined. Divide batter between the two graham cracker crusts. Using 1/4 cup of pomegranate syrup for each cheesecake, dot the top and swirl around with a knife. Bake on 350 for an hour. Set aside remaining syrup for serving. Once the cheesecake has cooled off, melt 8 oz semi-sweet baking chocolate and cover the top of the cheesecake with the melted chocolate. Once the chocolate has hardened drizzle remaining pomegranate sauce on top of the chocolate topping.
~ Recipe submitted by Nina Safar