Hamantaschen Ice Cream Sandwiches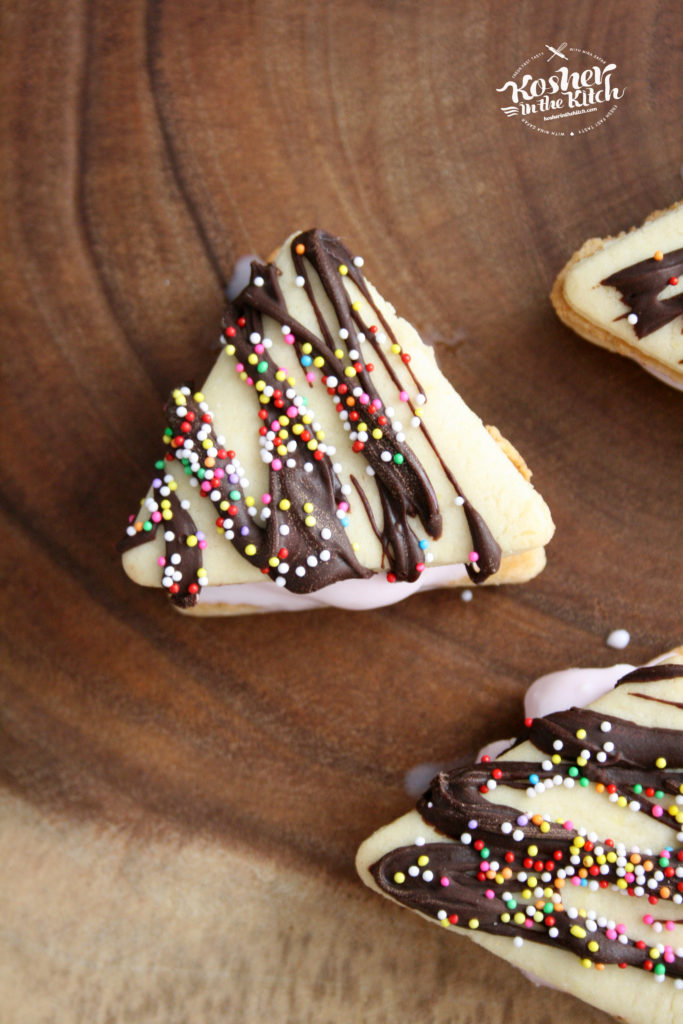 Hamantaschen ice cream sandwiches are the ultimate Purim treat! These hamantaschen are perfect for entertaining children over the holiday. Create a hamantaschen ice cream sandwich bar with crispy triangle shaped cookies, an assortment of ice cream flavors and toppings such as sprinkles, crushed cookies, chopped chocolate bars and melted chocolate then let everyone have fun creating their favorite combinations.
Ingredients for Hamantaschen:
2/3 cup sugar
1/2 cup oil
2 eggs
1 teaspoon vanilla
2 1/2 cups flour
2 teaspoon baking powder
Ingredients for serving:
Ice cream (any flavor!)
1 cup chocolate chips
Sprinkles
Optional toppings:
Crushed cookies
Chopped chocolate bars
Cereal such as fruity pebbles, coco pebbles etc
Directions for Hamantaschen:
Cream together sugar, oil, eggs and vanilla. Slowly add flour and baking powder. Mix together. The dough might be crumbly, use your hands to smooth it out and combine it. Roll out dough on floured surface (about 1/4 to 1/8 thick. Not too thick since then the circles are hard to shape and will open up. Not too thin since then it will rip when shaping or filling) and cut out triangles using a triangle cookie cutter. Bake on 350′ for 8 to 10 minutes. Allow hamantaschen to cool off. Meanwhile melt chocolate chips in microwave on 30 second increments, stirring in between until melted. Once cookies are cooled off, drizzle melted chocolate on top of half of the cookies (saving the other half for the bottom of the sandwich cookie) then top with sprinkles. Allow chocolate to dry before assembling ice cream sandwiches. (another option is to sandwich two cookies with ice cream then drizzle melted chocolate over and garnish with toppings.) Place a scoop of ice cream on plain cookie then top with a chocolate sprinkle cookie. Serve immediately.
Tips & Tricks: Swap sprinkles for crushed cookies, mini chocolate chips or chopped chocolate bars. Create a Hamantaschen ice cream bar by setting up different flavored ice cream in bowls, melted chocolate as well as fun toppings and letting everyone decorate their own ice cream sandwiches.