Chicken Stir Fry with Mushrooms and Garlic Ginger Sauce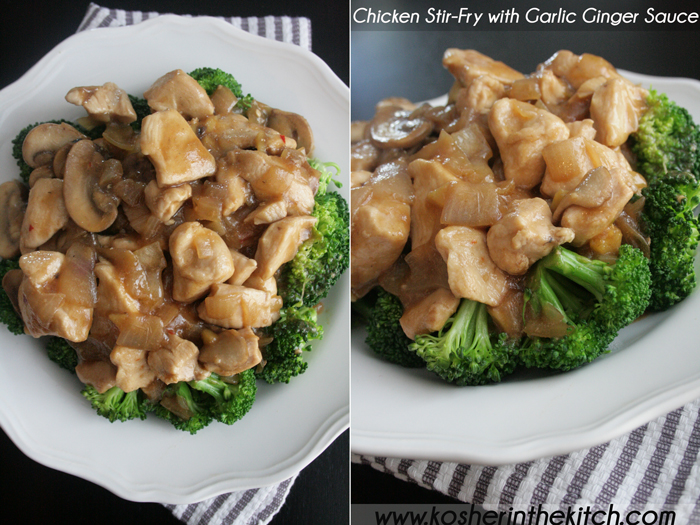 Ingredients:
3 tablespoons oil
1 onion, diced
3 cloves garlic, diced
1 tablespoon ginger diced
1 tsp. chopped chili
1 lb. chicken breast cut into chunks
8 oz. sliced mushrooms
Sauce:
2 tablespoons soy sauce
2 tablespoons teriyaki sauce
1/2 cup water
1 tablespoons corn starch
In a small bowl combine the above ingredients and mix well to dissolve corn starch.
Directions:
Heat a wok or frying pan with 1 tablespoon oil and saute onion, ginger, garlic, and chili pepper until tender. Add chicken chunks to pan and cook until no longer pink. Once cooked, remove chicken and onions from pan and set aside. Add 2 tablespoons oil to pan and saute mushrooms until soft then add the chicken back to the pan and mix with the mushrooms. Slowly pour sauce over chicken and mushrooms and stir together until sauce thickens. Serve over steamed broccoli or rice.
*Tips & Tricks: If you don't have fresh ginger you can use ginger powder instead. Just add it in the sauce. You can swap mushrooms for any of your favorite stir fry veggies!
~ Recipe submitted by Nina Safar