Gefilta Fish Tacos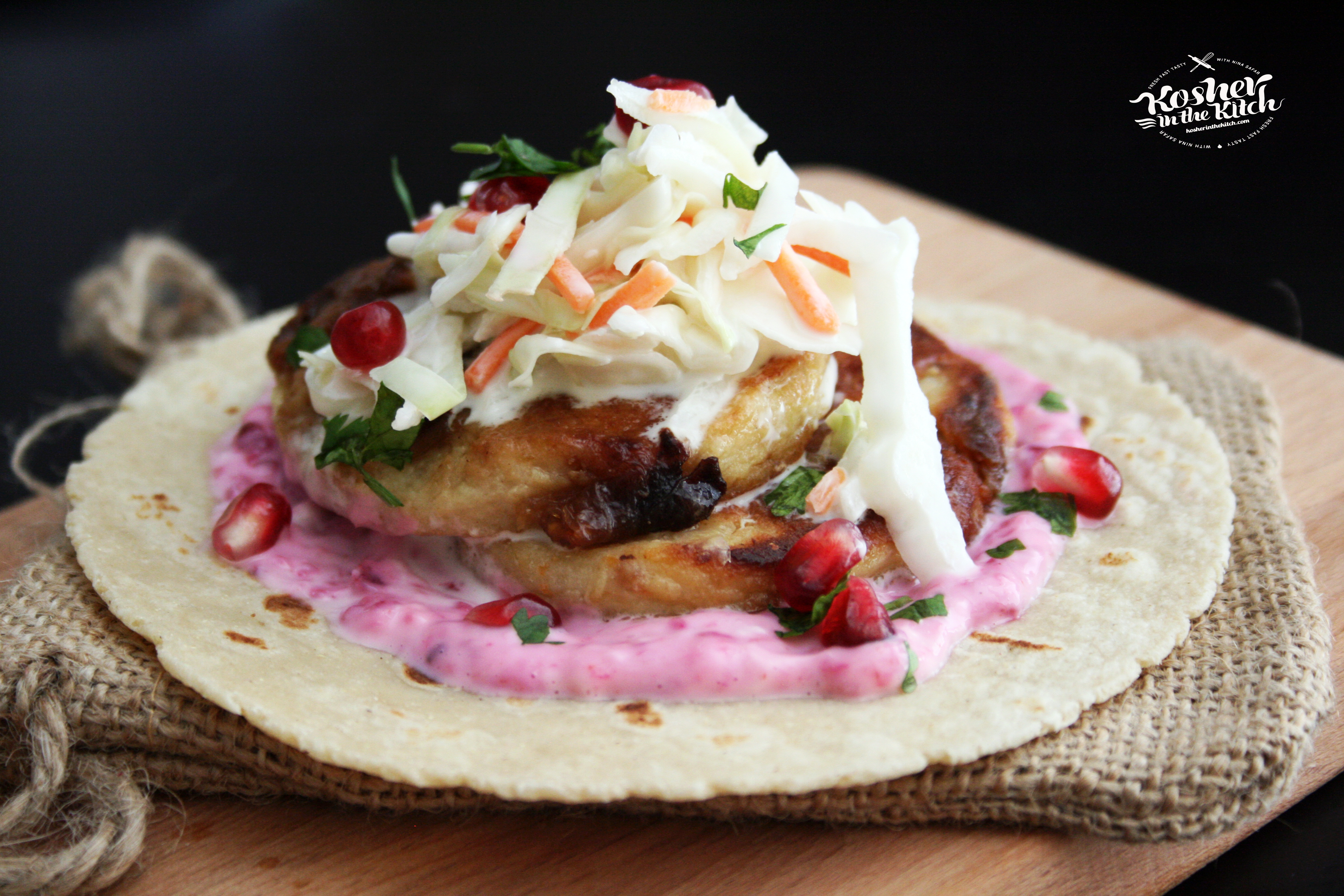 Add these Gefilta Fish Tacos to the Kosher in the Kitch remix list! I LOVE taking traditional recipes and serving them up with a twist, so here we've got fried gefilta fish patties served up taco style with chrayonnaise and pomegranate coleslaw. These gefilta fish patties are simply delicious. I have served them to people who did not like gefilta fish, and after one bite they said they loved it and wanted more. Yup, it's that good. Served over tortillas with a mix of tart chrain and creamy mayo topped with crunchy pomegranate coleslaw it's a fun and tasty appetizer for your holiday or Shabbat table.
Ingredients for Gefilta Fish Tacos:
Fried gefilta fish patties (recipe below)
1/2 cup of Mayonnaise
1/4 cup of Chrain
Pomegranate Coleslaw (recipe below)
Small tortilla shells
Optional: Chopped Cilantro or parsley for serving.
Directions for Gefilta Fish Tacos:
Combine mayonnaise and chrain. Spread over tortilla. Top with fried gefilta fish patties and pomegranate coleslaw. Optional, top with chopped cilantro or parsley.
Ingredients for Fried Gefilta Fish Patties:
1 loaf gefilta fish
1 onion cut into half moons
Directions for Fried Gefilta Fish Patties:
Defrost gefilta fish loaf slightly then remove wrapping paper and cut into patties. Saute onions until slightly browned then add fish and cook until lightly browned on both sides.
Ingredients for Pomegranate Coleslaw:
1 bag of Coleslaw Mix
2 tablespoons mayo
Juice of 1 lemon
1 tablespoon sugar
1/4 cup Pomegranate seeds
Directions for Pomegranate Coleslaw:
Combine coleslaw mix with mayo, lemon and sugar. Top with pomegranate seeds before serving.