Crunchy Crab Cakes with Cilantro Lime Dipping Sauce {Fake Crab}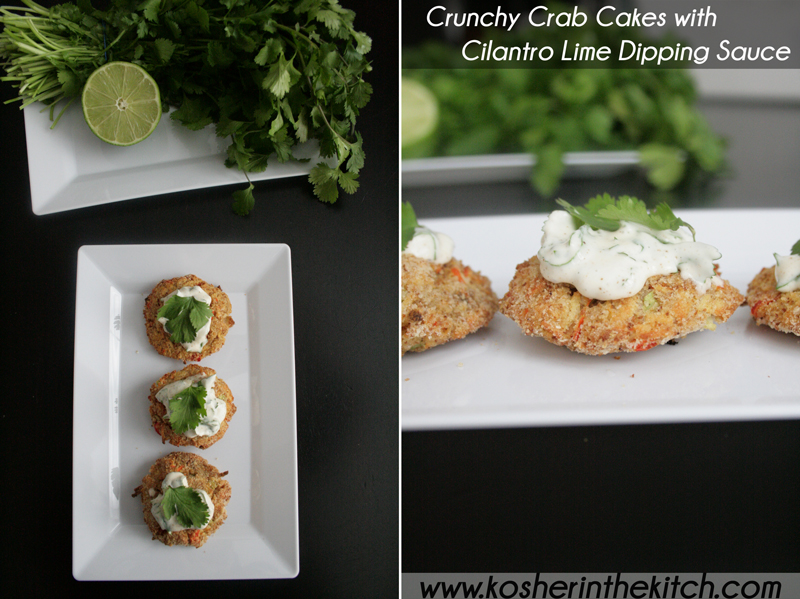 Ingredients:
1/2 cup diced red pepper
1/2 cup diced celery
6 sticks of fake crab, diced
1 tsp. dijon mustard
1 egg
1/2 cup of bread crumbs or panko crumbs plus 1/4 cup set aside
1/4 tsp. salt
1/4 tsp. black pepper
Egg wash (1 egg + 1 tablespoon water mixed together)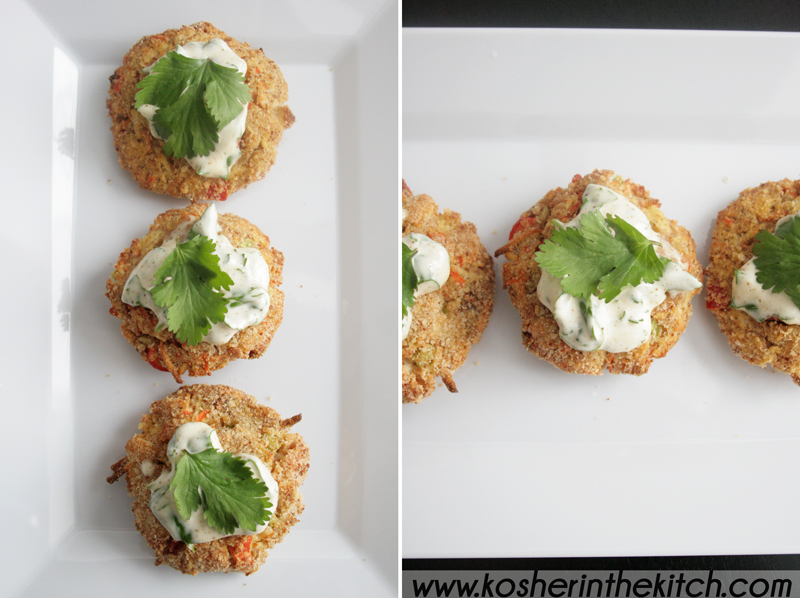 Directions:
Combine red pepper, celery, fake crab, mustard, egg and panko crumbs (or bread crumbs) salt and pepper in a large mixing bowl. Shape into patties. Dip both sides of each crab cake into the bowl of 1/4 cup crumbs that were set aside. Place on a lightly greased baking sheet. Brush with egg wash then bake in oven on 400′ for 10-12 minutes. You can also fry these up by heating up some oil in a frying pan and cooking both sides until crispy. Serve with cilantro lime dipping sauce and fresh cilantro.
Cilantro Lime Dipping Sauce:
Ingredients:
1/2 cup of mayo
2 tablespoons chopped cilantro (fresh!)
Juice of 1/2 lime
1/4 tsp. chile powder
Directions:
Combine above ingredients. Serve on top of each crab cake or on the side for dipping.
*Tips & Tricks: If the batter is too loose and you have trouble keeping it together, you can add 1 tablespoon flour to help bind it. If you are baking them and want it to be super moist, you can add a tablespoon of mayo to the mixture.
~ Recipe submitted by Nina Safar