BBQ Pastrami Stuffed Challah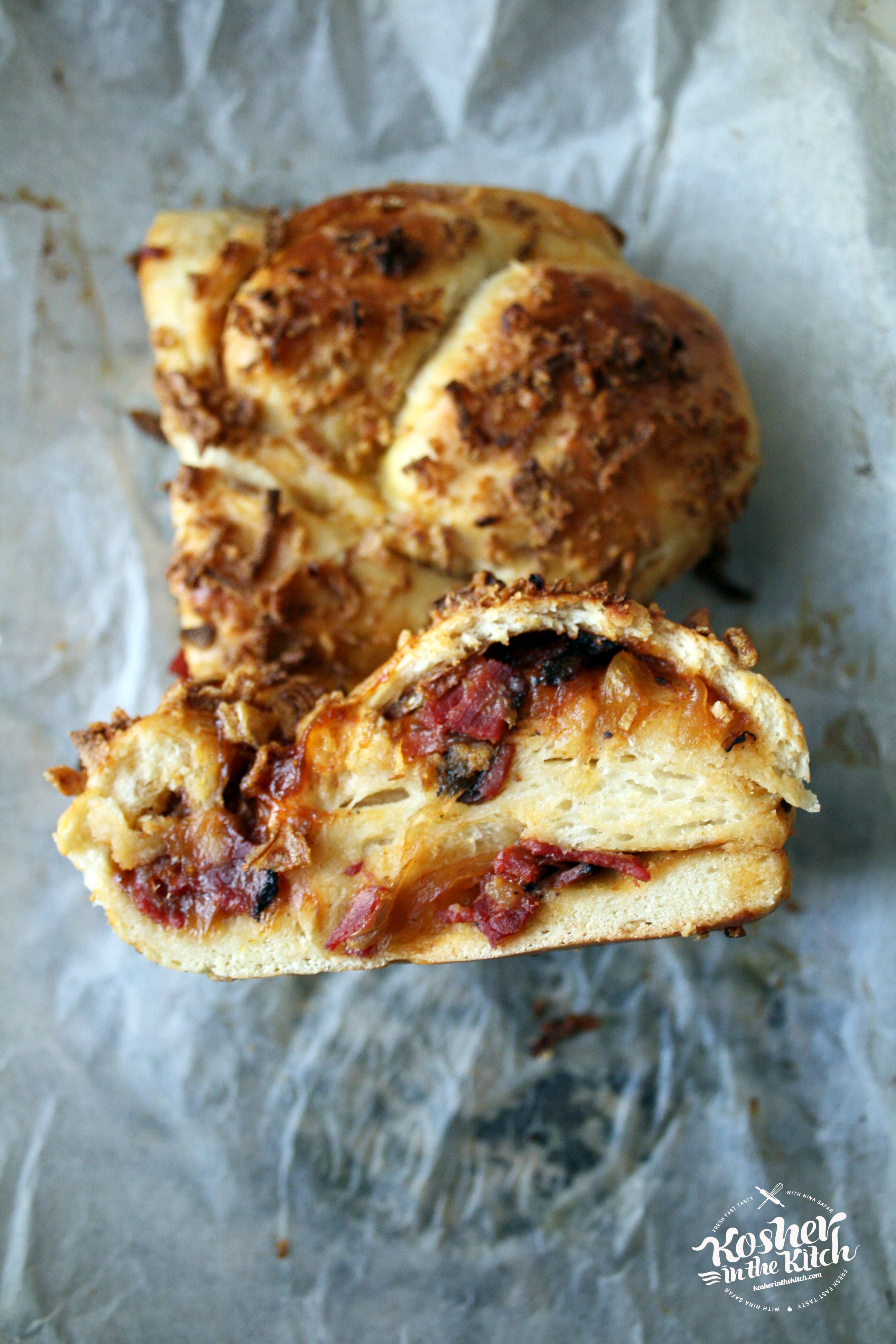 The only thing better than fresh from the oven soft fluffy challah, is fresh from the oven soft fluffy challah stuffed with golden caramelized onions, and chunks of pastrami combined with sweet tangy BBQ sauce topped off with crunchy fried onions. This is basically a meal for one very hungry, meat loving carb eating foodie (yup that's ME) However, if you would like to share then please note that this is not meant to be used for starting the meal after washing hands, but rather as an appetizer or side dish mid meal. I serve this epic fleishik (meaty) dish sliced up on a platter surrounding a bowl of spicy brown mustard for dipping.
Ingredients:
Challah dough (I use this recipe HERE)
4-5 medium sized onions, thinly sliced into half moons
Cooking oil
2 cups BBQ Sauce
1 package pastrami, chopped up
2 eggs whisked together combined with a tablespoon water.
Crunchy fried onions
Directions:
Cook sliced onions in a large pan with two tablespoons oil until caramelized (about 30-45 minutes until nicely golden browned). Once caramelized, combine with chopped pastrami and 1 cup of bbq sauce. Break prepared dough into pieces then roll out into long strands. Flatten strands and brush with bbq sauce then top with pastrami onion mixture and seal strand up before braiding challah. Top each challah with whisked eggs water mixture and sprinkle crunchy onions on top. Bake on 350′ for 20 minutes on top rack of oven then switch challah to bottom oven racks and bake an additional 20 minutes or until challah is golden browned on top. Best served warm with spicy brown mustard on the side.