Skinny Girl's Penne à la Vodka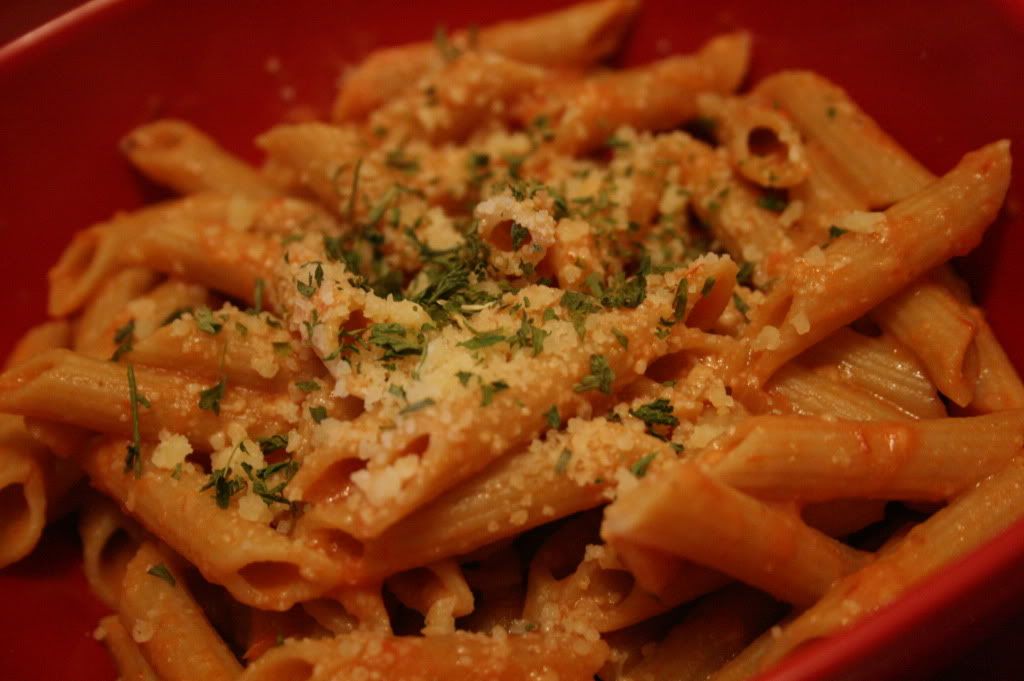 This is a great tasting low cal version of our fav Penne a la vodka!
Ingredients:
1 teaspoon salt
2 cups bottled marinara sauce, preferably   no-sugar-added
1 1/2 cups 1% low-fat milk or plain soy milk
1 tablespoon crushed red pepper
1 pound whole-grain penne
1/4 cup vodka (inexpensive)
1/4 cup Parmigiano-Reggiano cheese, grated
1 tablespoon chopped fresh flat-leaf parsley, for garnish
Directions:
1. Bring a large pot of water to a boil over high heat. Add salt when simmering.
2. Warm marinara in a saucepan over medium heat. Slowly add milk, stirring until combined. Bring to a simmer, then lower heat; simmer until sauce reduces slightly. Add crushed red pepper.
3. Add penne to boiling water. Cook until almost done; add vodka to marinara mixture, and raise heat slightly. Drain pasta, reserving 1/2 cup cooking water.
4. In a large bowl, toss pasta with sauce and Parmigiano-Reggiano, adding some reserved water to thin sauce, if needed. Garnish with parsley, and serve.
~ A Bethenny Frankel Recipe from Health Magazine, photo submitted by Nina Safar