Challah 3 Ways
If you are a frequent visitor of this site then you have noticed multiple recipes from my friend Mira Martinez. She is an amazing cook who has introduced me to some great recipes that I might not have tried otherwise. (coconut milk chicken and quinoa salad are just two of the many unique dishes that I sampled at her shabbat table!) Regardless of whether she is having a mexican themed meal or trying indian cuisine, her challah is always the same recipe and it's a classic. It is slightly sweet with a soft cake like texture and it's been the death of many of my diets.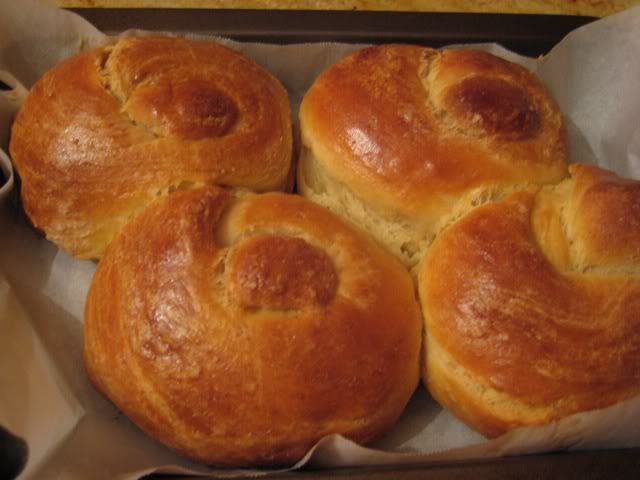 She makes it 3 ways, as long challah, as rolls, and sometimes as breakaway challah by forming rolls and baking them in a bundt pan. She got the recipe from her friend Yocheved Freeman who was kind enough to let us repost it here on KITK. Trust me when I say, this is going to be a staple at your future Shabbat meals.
Ingredients:
5 Tbs. yeast
5 c. warm water
3 Tbs. sugar
Combine and let sit 10-15 min. or until it bubbles.
5 eggs
1 1/2 c. sugar
1 c. oil
3 scant Tbs. salt
5 lb. + 1 c. high-gluten flour (comes in a 6-lb. bag)
Directions:
Combine the 5 Tbs. yeast, 5 c. warm water and 3 Tbs. sugar and let sit 10-15 min. or until it bubbles.
Then add the 5 eggs, 1 1/2 c. sugar, 1 c. oil, 3 scant Tbs. salt, 5 lb. + 1 c. high-gluten flour (comes in a 6-lb. bag) Then Knead or mix with bread mixer. After cover with a towel and let rise 2-3 hours, punching down from time to time. Shape loaves and after shaping the loaves, you should brush them with a beaten egg. Once they are shaped, bake at '380 for 17 minutes then switch trays between top and bottom racks and turn them around. Lower heat to 350 and bake an additional 9-10 min.
~ This is Yocheved Freeman's recipe, submitted by Mira Martinez.