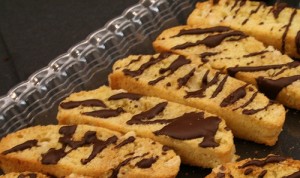 2 eggs
¾ cup oil
¾ cup sugar
1 tsp baking powder
1 tsp vanilla
2 cups + 1 Tbsp flour
½ cup white chocolate chips
cinnamon and sugar
Preheat oven to 350. Beat eggs, oil and sugar. Add baking powder, vanilla, flour and chips. Form 2 loaves. Bake 20-25 minutes. Cut up into 1 inch slices and sprinkle with cinnamon and sugar. Bake another 5 minutes on each side until brown.
Optional: Heat 1 cup of  whipping cream in pot till just bubbling. Melt 8 oz bittersweet or semisweet chocolate inside.  Dip biscotti halfway into chocolate and place on parchment paper to dry. Can sprinkle with decorative sprinkles. Enjoy!
~ Recipe submitted by Elke Probkevitz