My Mom's Strawberry Shortcake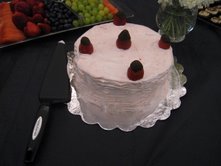 8 eggs (separated)
1 cup flour
1 cup sugar
Beat egg whites till stiff & add 1 cup sugar slowly. Add yellow of eggs slowly, then add flour & mix by hand. Bake in 2 nine inch round pans.
Bake at 350 for 40-50 minutes. cool
Whip up 1 16 oz dessert whip then add 1 pkg frozen strawberries.
Put topping on one cake, add the other cake on top add topping to the top and sides of the cake.
~ Recipe submitted by Miriam Rothstein