Sweet Noodle Kugel Muffins from The Simply Kosher Cookbook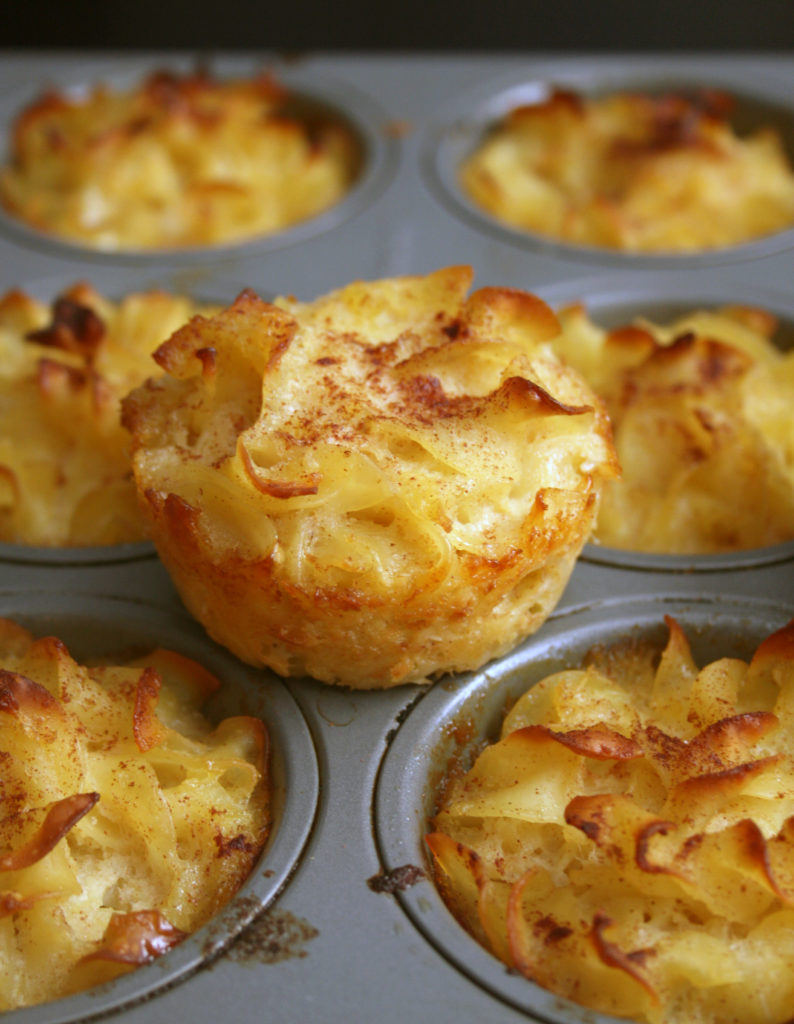 Some recipes simply remind you of home. One bite of these sweet noodle kugel mu ns and I'm back in Brooklyn, sitting in my mom's kitchen watching her prep for Shabbat. While the sweet cinnamon-laced noodles almost taste like dessert, tradition has me serving them alongside chicken and potato kugel during the Shabbat meal. My mother cooks this recipe as one large kugel in a 9-by-13-inch baking dish; however, I like the individual-size portions you get from a mu n tin.
PAREVE| SHABBAT | MAKES 12 MUFFINS| PREP TIME: 5 MINUTES | COOK TIME: 20 TO 25 MINUTES
Ingredients:
Nonstick cooking spray 5 eggs
1⁄2 cup oil
1 cup applesauce
1 cup crushed pineapple with juice
3⁄4 cup sugar
1⁄2 teaspoon salt
1⁄4 teaspoon cinnamon
12 ounces wide egg noodles, cooked according to the package directions
Directions:
1. Preheat the oven to 350°F. Grease a 12-cup mu n tin with cooking spray.
2. In a large bowl, whisk together the eggs, oil, applesauce, crushed pineapple, sugar, salt, and cinnamon. Add the cooked noodles to the bowl and mix well.
3. Divide the batter evenly among the prepared mu n cups.
4. Bake for 20 to 25 minutes or until the muffins are set and the edges are slightly crusty.
Make-Ahead Tip: This recipe freezes well. You can prep and cook the muffins in advance and store them in the freezer in an airtight container for up to 6 months.
Per serving: Calories: 278; Total fat: 12g; Total carbs: 37g; Fiber: 1g; Sugar: 17g; Protein: 6g; Sodium: 129mg
For 100+ DELICIOUSLY Easy Recipes Order The Simply Kosher Cookbook Now! 

For 100+ DELICIOUSLY Easy Recipes Order The Simply Kosher Cookbook Now!