Dijonnaise Salmon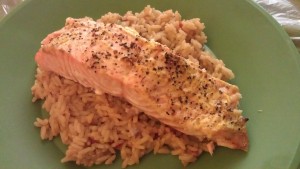 I love cooking Salmon for dinner because there is zero prep involved and it takes only twenty minutes to cook, leaving me just enough time to wash my hands and whip up a salad!
Ingredients:
3 Salmon fillets
1/4 cup of Dijonnaise (I use Hellmans Dijonnaise however you can mix equal parts mayo and dijon mustard or spicy brown mustard)
1 tablespoons Lemon Juice
Black Pepper (I LOVE McCormick's Grill Mates® Montreal Steak Seasoning, it adds great flavor to any dish.)
Directions:
Place the Salmon in a pan. Smear the dijonnaise on top. Sprinkle the lemon juice on top. Shake some pepper over the Salmon. Bake uncovered on 500′ for 20 minutes. Serve over ginger rice. (I use the near east as its quick and easy!)
Got Leftovers? You can make a salmon avocado wrap for lunch or you can throw it in a salad with some croutons.
~ Recipe submitted by Nina Safar