Mashed Potatoes with Garlic and Chives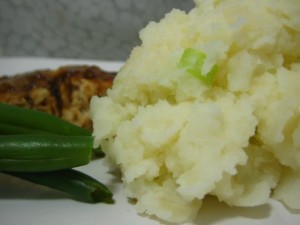 Note: this recipe is dairy however you can use margarine instead of butter and soy milk instead of half and half.
Wash, skin and boil 6 large potatoes until they are soft enough to pierce through with a fork.
Remove from heat and drain most of the water (leave about 2 tablespoons worth).
Add 1/4 stick butter, and 3-4 cloves crushed garlic. Mash halfway, then add 2 tablespoons half and half (can use skim milk). After the potatoes have been mashed, add another tablespoon of half and half and 1/4 cup fresh sliced chives. Add salt to taste.
~ Recipe submitted by Kseniya