Creamy Cheesecake with Pomegranate Sauce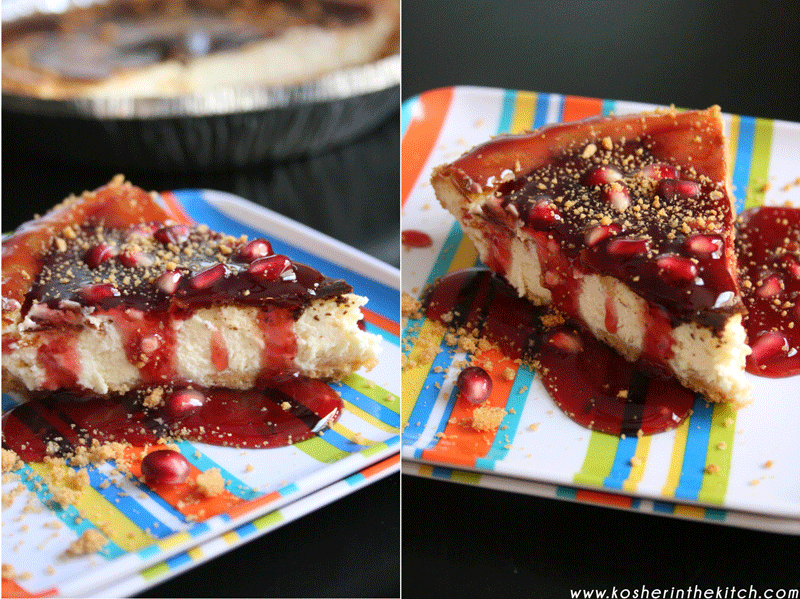 My son is crazy about cheesecake and even though it's not really that difficult to make, I like prepping two of these bad boys at a time so I can throw one in the freezer and have it ready when needed. This recipe makes two creamy cheesecakes. The sauce is an easy pomegranate syrup that is the perfect combo of sweet and tart to dress up the rich and creamy cheesecake.
Ingredients:
16 oz. whipped cream cheese (room temperature)
16 oz. sour cream
2 eggs
1/2 cup of sugar
1 tsp. vanilla extract
2 ready made crusts (6oz. each) can be graham cracker or chocolate
Directions:
Combine cream cheese, sour cream, sugar and vanilla extract until smooth. Slowly add in eggs and beat until combined. Divide batter between the two graham cracker crusts. Bake on 350′ for an hour.
Pomegranate Sauce:
4 cups pomegranate juice
1/2 cup sugar
1 tablespoon freshly squeezed lemon juice
Bring ingredients to a boil (allowing sugar to dissolve) then lower flame and stir until thickens. Allow sauce to cool off then combine it with 1/2 cup of pomegranate seeds. Serve over cheesecake.
~ Recipe submitted by Nina Safar