Three Layer Carrot Cake (with cream cheese icing)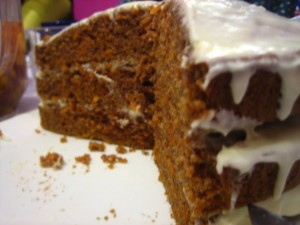 1 1/2 cup wesson oil
2 cups sugar
4 eggs
2 cups flour
3 cups grated carrots
2 tsp. baking soda
1 tsp. salt
3 tsp. cinnamon
2 tsp. vanilla
1. Combine sugar and oil and add eggs.
2. Sift flour, soda, salt and cinn. together.
3. Add to sugar mixture and beat well.
4. Add vanilla and grated carrots.
5. Bake in three 8 inch cake pans which have been well greased. Bake at 325 degrees for 45 min. Cool and ice with cream cheese icing.
Cream cheese Icing
1 stick margarine
8 oz. cream cheese
1 pckg. confectioner's sugar (powdered sugar)
2 tsp. vanilla
Soften margarine and cream cheese. Add sugar and vanilla. Mix until smooth and creamy.
This cake is absolutely delicious. Even people that have told me they hate carrot cake loved this one. I would suggest using 1/2 – 3/4 pckg. confectioner's sugar because it does tend to get overbearingly sweet.
If the cake seems unbalanced as you are stacking the tiers, slice a little cake off the top of the bottom tiers so that the surface is flat for the next tier.
~ Recipe submitted by Kseniya