Jelly Donut Muffins – {Guest Post}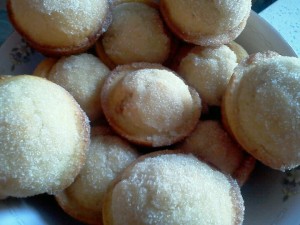 Ingredients:
2 cups flour
1 TBS baking powder
pinch of salt
1/2 cup superfine sugar
2 large eggs
1 cup milk (or non dairy milk)
1/3 cup unsalted butter, melted and cooled
1 tsp vanilla extract
1/4 cup jelly of choice
Topping:
1/4 cup butter
1/3 cup granulated sugar
Directions:
Preheat oven to 400'F. Grease a 12 muffin tin.
Sift together flour, baking powder and salt. Stir in superfine sugar.
Lightly beat eggs in a large bowl. Mix in milk, butter and vanilla.
Make a well in the center of the dry ingredients and pour in the liquid mixture. Stir gently until combined; do not overmix.
Spoon half the batter into each muffin pan. Add a teaspoon of jelly, then top with remaining batter. Bake for 20 mins until well risen, golden brown, and firm.
While muffins are baking (or cooling), melt butter for topping and pour into shallow dish. Place sugar in a separate shallow dish. After muffins are ready and have cooled about 5 mins, remove from muffin pan, dip the tops of the muffins in the butter and roll in sugar. Serve warm or transfer to wire rack to finish cooling.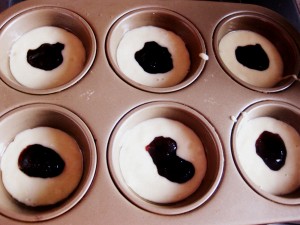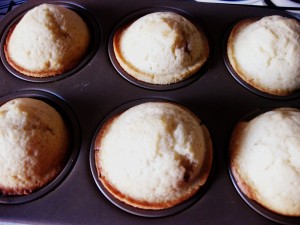 ~ Recipe submitted by Kseniya of "The Midnight Baker"