Creamy Chicken Pot Pie
My husband loves chicken pot pie however his only reference for it is the frozen kind you find at the supermarket! I knew I had to remedy that and so I called my sister Tova for her easy, classic recipe for creamy chicken pot pie. She uses leftovers from her soup on Sunday night, however I never have leftover soup after shabs, so I cooked chicken breast cut into cubes. If you don't like the classic veggie mix of peas, carrots and corn you can use broccoli, potatoes and sweet potatoes cooked and cubed. Also, if pressed for time you can throw the mixture into a ready made deep dish pie crust and top with puff pastry.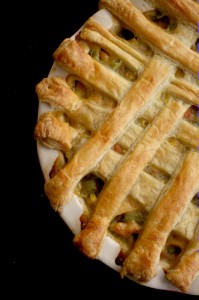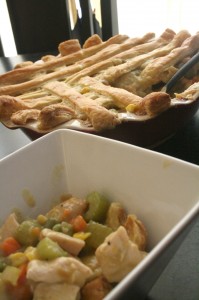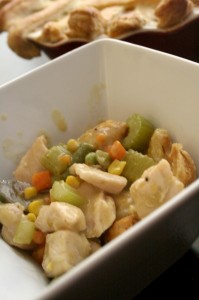 Ingredients:
1 onion, diced
1 lb. of boneless skinless chicken breast, cut into cubes
1 frozen package of classic mixed vegetables, thawed
1 cup of chopped celery, (about 4 sticks)
3 cups chicken broth
1/3 cup flour
1 package of Puff Pastry Sheets (I use Pepperidge Farm, it comes with two sheets)
Directions:
Take 1 sheet of puff pastry and press into bottom of baking dish, poke several holes in it and bake on 350′ for 15 – 20 minutes. Meanwhile, saute onion, add chicken. Cook until no longer pink. Remove from heat and set aside. Then add veggie mix and celery to pan and saute for several minutes before adding the chicken back to the pan. Add broth and flour, and combine well. Season with salt and pepper. Place the chicken and veggie mix into baking dish, top with pastry dough and cook on 350 for 20 – 35 minutes until filling is bubbly and crust is golden brown.
~ Recipe submitted by Nina Safar