Squash Casserole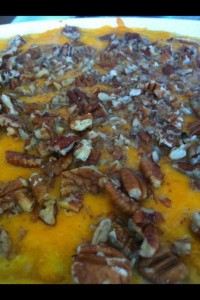 Ingredients:
2 pounds Yellow Squash [(Acorn or Butternut) cut into 3/4″ pieces ]
1 cup chopped Onion
1 teaspoon Salt
1/4 teaspoon Pepper
4 tablespoons Butter
1 cup Saltine crackers (crumbled)
1/2 cup Milk
1 cup Cheddar cheese (shredded)
1/2 cup Pecans
Directions:
Place Squash, salt & pepper in a large saucepan. Add a small amount of water, cover and cook the squash until tender, stirring occasionally and adding more water if necessary.
Saute the onions in 2 Tbls. of butter. Drain the squash and add to the onions and stir in the remaining butter. Taste to adjust seasoning adding salt & pepper to taste.
Stir in crumbled crackers into the squash mixture & turn into a buttered casserole. Pour the milk over the squash & sprinkle with cheese & chopped pecans.
Bake at 350 (F) degrees uncovered for 20 minutes (or until milk is absorbed)
~ Recipe submitted by Bay Yess