Broiled Steak & Stir Fry Veggies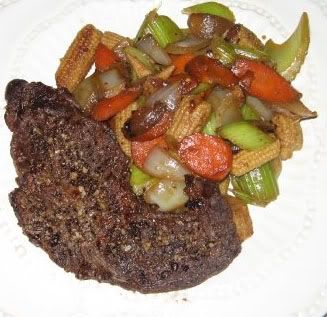 Ingredients:
Steak
Duck Sauce
Montreal Steak Seasoning
Veggies such as carrots, celery, onions and baby corns.
Tamari sauce and salt.
Directions:
Marinate steak in duck sauce and sprinkle Montreal steak spice on it.
Broil 9 min on each side.
Stir Fry the veggies, carrots, celery,onions and baby corns.
Once ready, sprinkle Tamari sauce and salt on them.
~ Recipe submitted by Mushka Lipskier