Quinoa Salad with Avocado and Pomegranate Seeds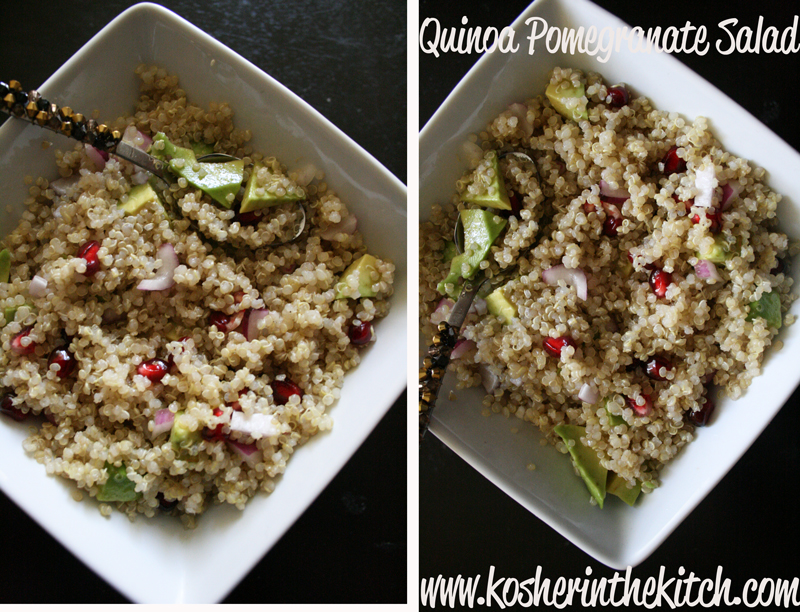 Quinoa is the perfect base for a salad since it's hearty and filling and can be paired with any dressing. This once is sweet with a slight tart kick. The pomegranate seeds give it a nice crunch.
Ingredients:
1 cup of quinoa
2 cups of chicken stock
1 small red onion, diced
1 avocado, cubed
1/2 cup of pomegranate seeds
1/3 cup of olive oil
1 tablespoon balsamic vinegar
1/2 tablespoon brown sugar
1/4 teaspoon garlic
1/4 tsp. salt
1/4 tsp. black pepper
juice of 1 lime
Directions:
Cook quinoa as directed on packaging, using chicken stock in place of water. Once cooked, combine in a large bowl with avocado, red onion and pomegranate seeds. Prepare dressing by mixing together the oil, vinegar, brown sugar, garlic, salt, pepper and juice of 1 lime. Add dressing to quinoa salad and mix well.
~ Recipe submitted by Nina Safar