Apple Pie Stuffed Crumb Muffins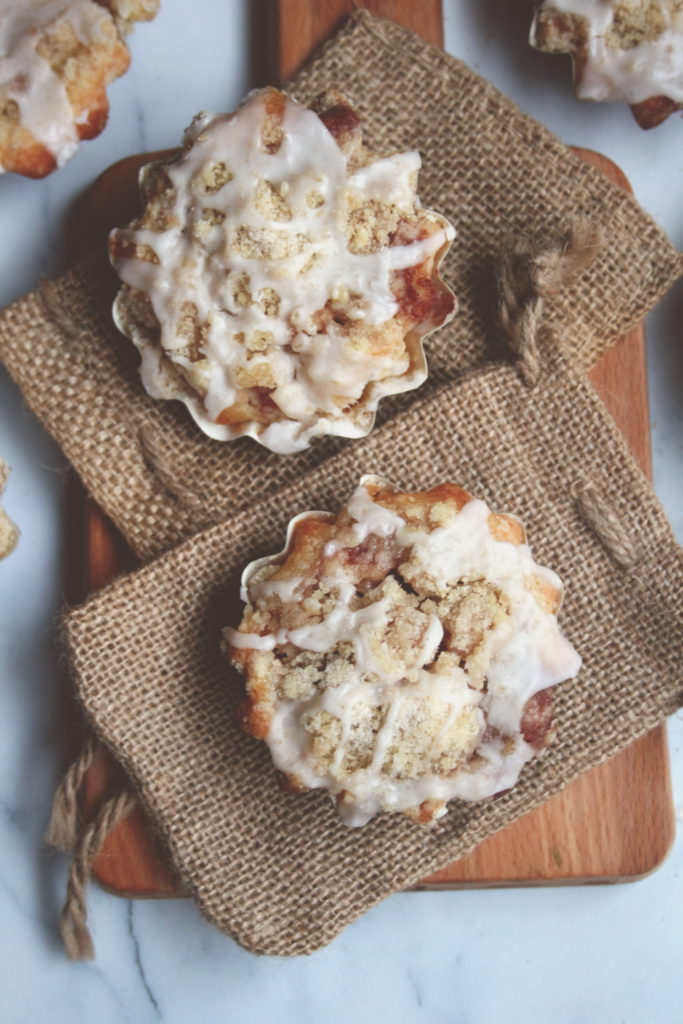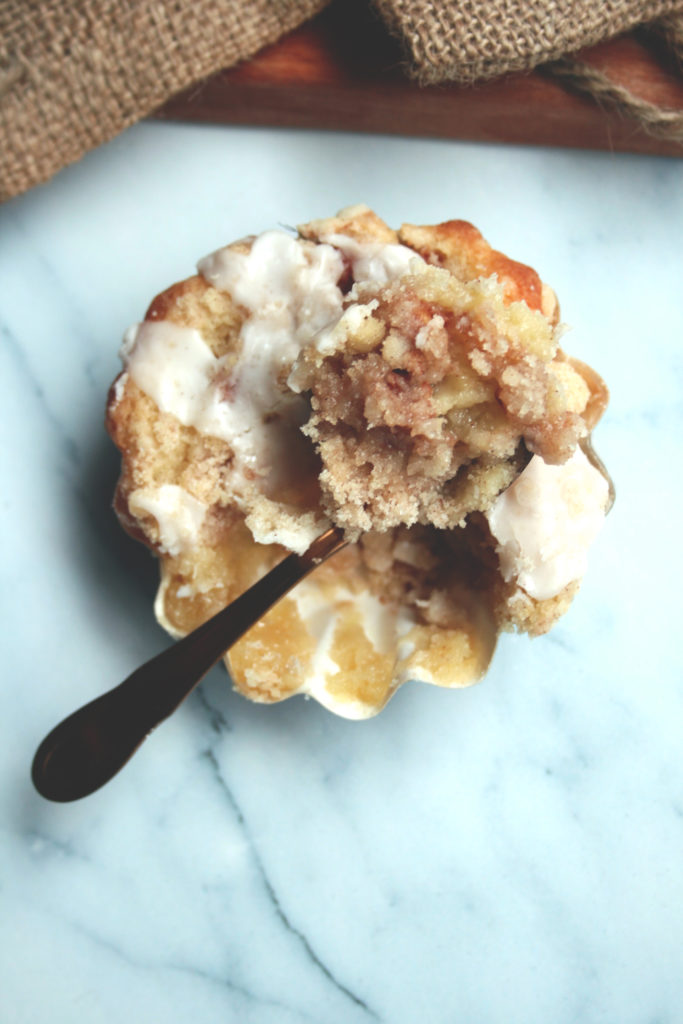 This year I am teaming up with Ralphs Grocery to bring you a SWEET new dessert for your holiday menu. On Rosh Hashanah, the new Jewish year it is tradition to eat apples dipped in honey to symbolize having a sweet happy new year. Usually, apple pie ends up on the menu. While I love apple pie, I kind of like cupcakes even more and this dish is the best of both with a classic yellow cake base stuffed with a delicious mixture of apples and cinnamon and topped with crumbs and a cinnamon laced glaze. Also, no need to cut and serve since everyone can get their own muffin!
You can shop for all of the ingredients at your local Ralphs, and if you are super busy for the holidays you can even order online and have them deliver it to your door! Wishing you and your loved one a happy sweet new year from Kosher in the Kitch and Ralphs.
Apple Pie Stuffed Crumb Muffins
Ingredients:
Muffin Ingredients:
2 cups of flour
1 and 1/3 cup of sugar
3 teaspoon baking powder
1 teaspoon salt
1/2 cup of oil
1 cup of orange juice
2 eggs
1 teaspoon vanilla extract
Apple Pie Filling:
2 large apples (gala or granny smith)
1/4 cup brown sugar
2 teaspoons cinnamon
1/4 teaspoon allspice (or nutmeg)
2 tablespoons flour
Juice of 1 lemon
Dice and peel apples and combine with remaining ingredients.
Crumb Mixture:
1 cup of flour
1 cup of light brown sugar
1/2 cup of margarine
1/4 teaspoon cinnamon
Combine ingredients using hands until you get a crumb texture.
Cinnamon Glaze:
3/4 cup powdered sugar
1 T almond milk
1 t vanilla extract
1/8 teaspoon cinnamon
Combine ingredients until smooth.
Directions:
Combine cupcake ingredients in a large mixing bowl. Fill cupcake liners with about 1/4 cup batter for each muffin. ( I use an ice cream scooper) Add a tablespoon of apple pie filling to center of each muffin. Place crumb mixture on top of each muffin. Bake on 350′for about 23 to 25 minutes. Allow to cool off before drizzling cinnamon glaze on top of muffins.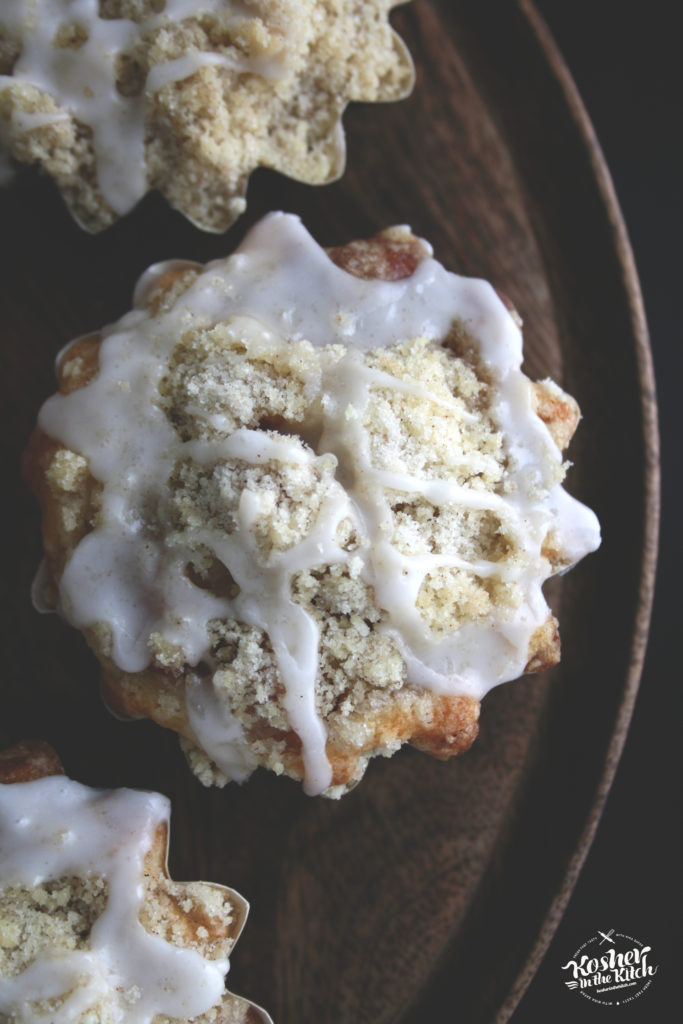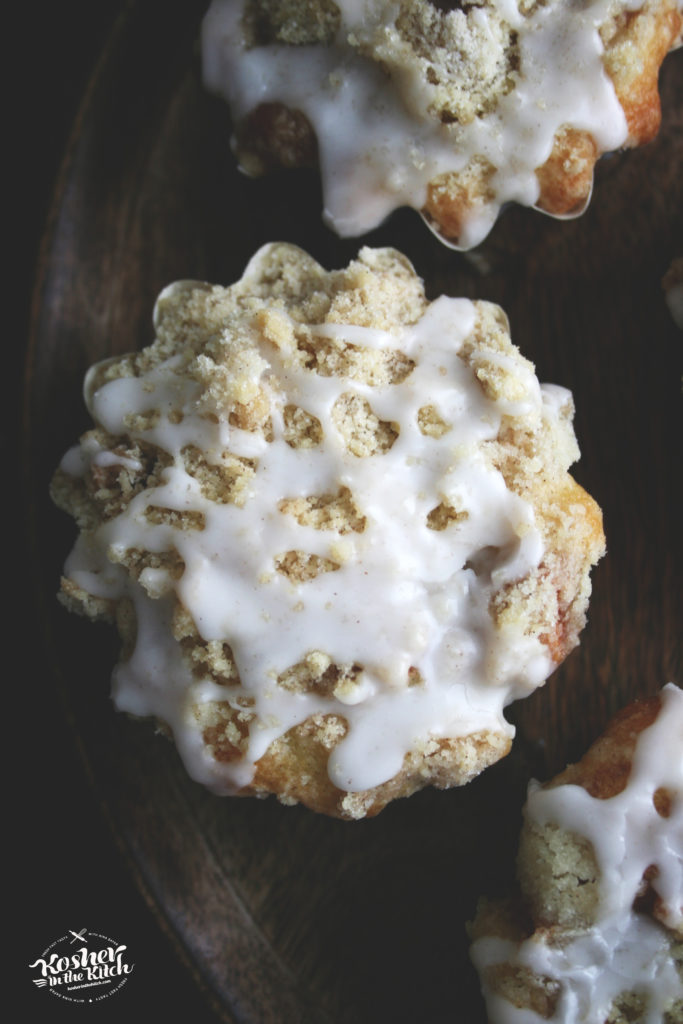 *** This post is sponsored by Ralphs Grocery
For 100+ DELICIOUSLY Easy Recipes Order The Simply Kosher Cookbook Now! 

For 100+ DELICIOUSLY Easy Recipes Order The Simply Kosher Cookbook Now!