Classic Challah with Modern Variations from The Simply Kosher Cookbook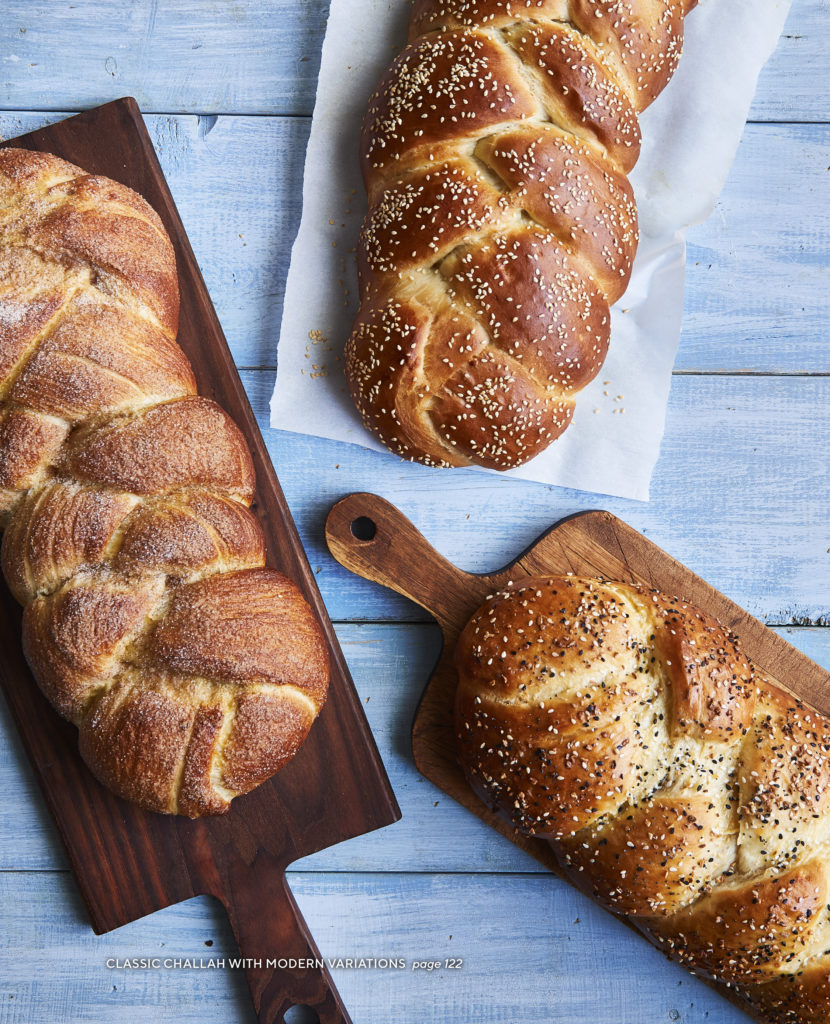 This classic challah recipe is slightly sweet with a soft, cakelike texture. It is my bubbe's recipe, and it is a constant on my Shabbat table. While baking challah can be somewhat of a tedious process (kneading the dough and then waiting for it to rise before shaping), the end result—slices of challah hot from the oven topped with fresh hummus—is always worth it.
PAREVE NUT FREE | MAKES 4 LARGE LOAVES (SERVES 32)
PREP TIME: 30 MINUTES ACTIVE, 3 HOURS INACTIVE | COOK TIME: 40 MINUTES
Classic Challah with Modern Variations
Ingredients:
3 (1/4-ounce) packets active dry yeast
31/2 cups warm water (about 100 ̊F), divided
2 teaspoons sugar
1 cup canola oil
13/4 cups sugar
1 tablespoon salt
1 teaspoon vanilla extract 6 eggs, divided
12 cups all-purpose flour 1 tablespoon water
Directions:
1. Preheat the oven to 300°F. Line a baking sheet with parchment paper.
2. In a medium bowl, combine the yeast with cup of warm water and the sugar and let it sit until it begins to bubble, 5 to 10 minutes.
3. Meanwhile, in a large bowl, combine the remaining
3 cups warm water, oil, sugar, salt, vanilla, and 4 eggs, and mix well. Then add the yeast mixture and mix well. Add the our and stir to combine, mixing until all of the our is incorporated.
4. Cover the bowl with a clean kitchen towel and let the dough rise for 3 to 4 hours, until it has pu ed up and about doubled in volume.
5. Divide the dough into 4 equal pieces. If the dough is sticky, dust your surface with our. Divide each piece of dough into three sections, roll the sections into long ropes, and braid them, pinching the ends to seal. Place the braided loaves on the prepared baking sheet. Cover and allow to rise a second time, for about
40 minutes.
6. In a small bowl, whisk the remaining 2 eggs with
1 tablespoon of water. Brush the braided loaves with the egg wash.
7. Bake the loaves for 20 minutes, then increase the oven temperature to 350°F and bake for another 20 minutes or until the tops are golden brown.
Variation:
After brushing the tops of your loaves with egg yolk, you can top them with sesame seeds, everything-bagel spice, sugar-cinnamon mix, or other favorite spices. To make a stu ed challah, separate the prepared dough into small pieces as you shape it, then roll out each piece into long strands. Flatten the strands and place your lling along each. (Try s'mores challah with a schmear of chocolate spread down the center, plus mini marshmal- lows and chocolate chips.) Then seal each strand by rolling it over and pressing down the side before braiding. Brush braided challah with egg yolk mixture and add toppings (in this case, crushed graham crackers and additional chocolate chips and mini marshmal- lows). For a savory stuffing, stuff with chopped pastrami and barbecue sauce and top the braided challah with crispy onions before baking.
Per serving: Calories: 286; Total fat: 8g; Total carbs: 47g; Fiber: 2g; Sugar: 11g; Protein: 6g; Sodium: 230mg
For 100+ DELICIOUSLY Easy Recipes Order The Simply Kosher Cookbook Now! 

For 100+ DELICIOUSLY Easy Recipes Order The Simply Kosher Cookbook Now!