Matzo Ball Crusted Chicken Pot Pie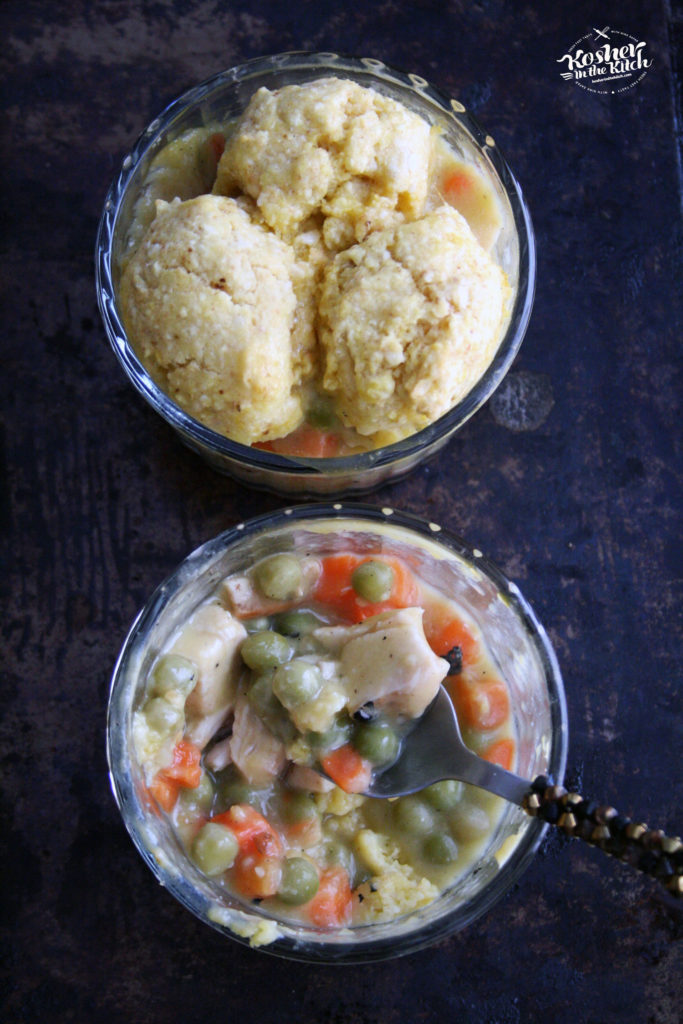 I have teamed up with Lipton Kosher to bring you a new and exciting way to eat matzo balls! When you hear matzo balls you might instantly think of chicken soup but that's not the only way to enjoy this classic Shabbat staple. When Lipton Kosher asked me to create a fun and unique way to serve matzo balls my mind initially drew a blank. Other than serving them in pea soup (my absolute fav!) I couldn't come up with anything besides SOUP to pair it with. Rather than think of how to serve matzo balls, I decided to think of other comfort foods and how THEY could incorporate mazto balls. (this is how I come up with most of my holiday mashups!) I immediately thought of chicken pot pie and how it's cooked in a crust with a layer of dough on top. Swap the dough for matzo balls and you have the ultimate comfort food mashup!
Recipe:
1 package Lipton Matzo Ball Mix

2 eggs
1 tablespoon vegetable oil
1 tablespoon olive oil
1 package frozen peas and carrots
1 lb. boneless chicken breast cooked and diced
3 cups veggie broth plus 1/2 cup
1/3 cup flour
Directions:
Prepare matzo balls by blending 2 eggs and 1 tablespoon vegetable oil in a medium sized bowl. Add one packet matzo ball pouch and stir with fork until well combined. Refrigerate for 10 minutes. Meanwhile, heat up a large pot with 1 tablespoon olive oil. Place veggies in pot and stir around for several minutes before adding cooked chicken to pot. Stir around so combined, then add 3 cups veggie broth and flour. Stir over medium flame until sauce thickens. Fill up individual ramekins with chicken pot pie filling. Remove matzo ball mixture from refrigerator. Using a small cookie scooper, scoop out mixture and use wet hands to form batter into mini balls. Top each ramekin with 2 to 3 mini matzo balls. Using the reserved 1/2 cup of broth, spoon a half tablespoon veggie broth over matzah balls. Bake in oven on 350′ for 12′ to 15′ minutes until matzo balls are firm.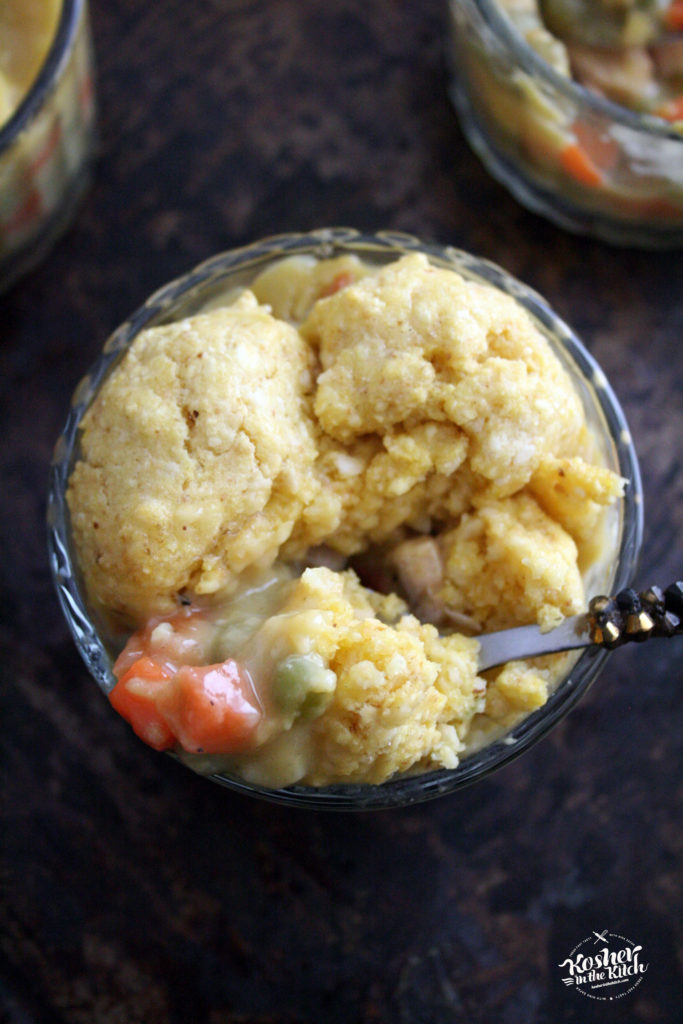 ** Disclosure: This post is sponsored by Lipton Kosher. Lipton Kosher & Kosher in the Kitch are collaborating to bring you deliciously easy recipes using Lipton Matzo Ball Mix
.