Vegan Family Meals – Get Cookin' with Ann Gentry {Cookbook Review}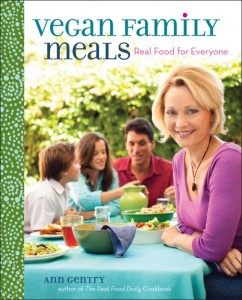 Meatless Monday is all the rave. (as it should be!) It's good for both your health and budget to take a break from fish, meat and chicken at least once a week. Having a hard time thinking up new and tasty veggie ideas? Ann Gentry helps us out with her new cookbook, Vegan Family Meals: Real Food for Everyone

It's filled with fresh and deliciously meat free recipes, including a section on sweet desserts!
There are over 100 recipes including Ann's Morning Power Smoothie, Super Hippie Granola,Sesame-Shiitake Tofu Frittata, Maple Tempeh Bacon, Blueberry Corn Pancakes and French Toast with Fresh Raspberry Syrup. And that's just breakfast!
I love my meat, and my cheesy pastas however I am eager to whip up more than a few of these tasty dishes. (Maple Dijon Tempeh and Vegetable Stew!)
Click HERE For more info on Ann's Real Food Daily.
Want your own copy of the cookbook? You can get it Here.
~ Review written by Nina Safar