Spiced Salmon with Avocado Salsa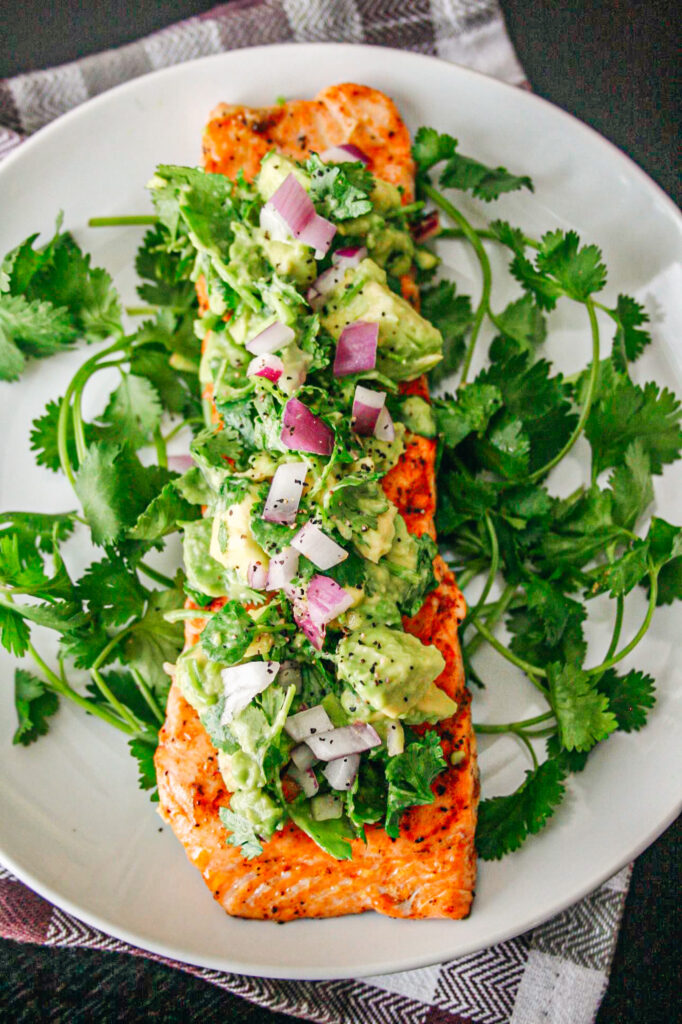 I enjoy meal planning as much as I enjoyed studying for finals in school. It always leaves me feeling the same way, super stressful and I just want to order pizza and distract myself with a magazine instead. While I will never be the mom who freezes meals in advance and preps food for an entire week on a Sunday, I do like to have some handy recipes in my pocket (or on my blog!) that are both easy and delicious. Salmon is the ultimate weeknight dinner since it's quick to cook, goes wonderfully with a variety of flavors and seasonings, and also happens to be major brain food. When roasting salmon, I like to stick with the same basic method of cooking, making it an easy addition to my weekly meal plan. Olive oil is drizzled on top, followed with spices, and then cooking under high heat in the oven for a short amount of time. The no-fuss preparation makes it easy enough for my dinner menu, and alternate toppings such as creamy cilantro lime sauce, peach salsa or this fresh avocado salsa, keeps it fresh and exciting.
Ingredients:
1 lb. salmon
2 tablespoons olive oil
Salt for seasoning
Black pepper for seasoning
2 avocados, peeled and diced
2 tablespoons cilantro, chopped
1 small red onion, diced
Juice of 2 lime
Directions:
Place salmon, skin side down, on a baking sheet covered with parchment paper. Drizzle olive oil over salmon. Season with salt and pepper. Place in oven on 450′ for about 12 minutes, until salmon is cooked through and flakes easily. Prepare avocado salsa by combining avocado, cilantro, red onion and lime juice. Serve over cooked salmon.