Waffle Latkes Brunch Board for Hanukkah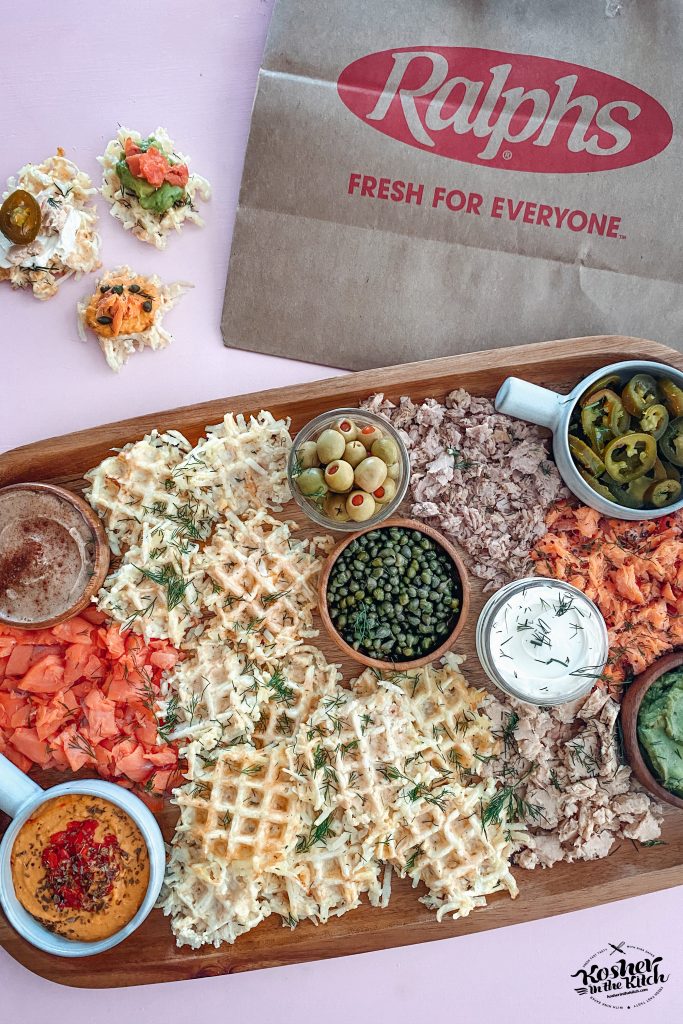 Brunch brunch baby but make it LATKES! I teamed up with Ralphs Grocery to create this Chanukah Brunch Board featuring Waffle Latkes using my latke hack, Kroger Shredded Hash Browns! Hanukkah might be different this year for so many of us but it can still be delicious and filled with magical (tasty!) memories. You can order all of the ingredients needed to make your own holiday brunch board by using Ralphs app and have everything delivered straight to your home with the Delivery Savings Pass. It's just $79.99 annually and you get unlimited grocery delivery for orders over $35! This recipe is super family-friendly and a great holiday activity to prepare with kids. What will you put on your brunch board?
Ingredients:
1 bag (30oz) of Kroger Country Style Hash Browns (defrosted)
2 eggs
2 tablespoons flour
Salt to taste
Black Pepper to taste
All of your favorite brunch ingredients to assemble the brunch board. Some items to include but not limited to, flaked salmon, lox, cream cheese, hummus, capers, pickles, olives, guacamole, butter, etc…
Directions:
1. Place defrosted hash browns in a large mixing bowl.
2. Add eggs and flour and season with salt and pepper. Combine well.
3. Spray a waffle maker with oil then scoop about 1/4 cup (I use an ice cream scooper to measure out the perfect amount) and heat up until edges are golden brown.
4. Place cooked waffle latkes on a large serving platter and surround with brunch board ingredients.