Shakshuka Latkes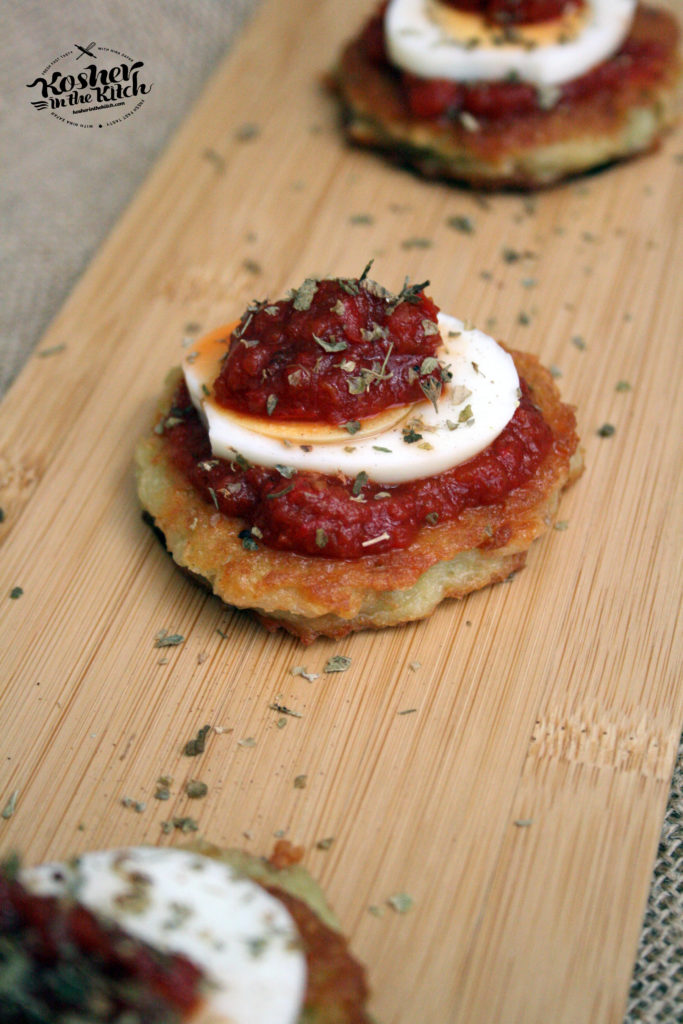 It was only a matter of time before my love for eggs baked in savory tomato sauce would inspire my new favorite latke, Shakshuka latkes! In honor of the first Los Angeles Sephardic Music Festival (which I'm catering!) I'm giving traditional latkes a middle eastern twist with flavors like shakshuka latkes, falafel latkes and shawarma latkes! Shakshuka latkes are crispy potato latkes topped with matbucha and a fried egg. Serve with a side of Israeli salad and tahini for dipping!
Ingredients:
4 cups shredded potatoes (1 lb frozen hash browns work great!)
1 small onion, chopped
2 eggs
3 tablespoons scallions, chopped
2 tablespoons flour
1 teaspoon salt
1/4 teaspoon black pepper
Fried eggs for serving (poached eggs or sliced hard boiled eggs can also be used)
Matbucha for serving
Directions:
Combine shredded potatoes, onion, eggs, scallions, flour, salt and pepper in a large bowl. Using a tablespoon measuring spoon for bite sized latkes and an ice cream scooper for larger latkes, cook batter in batches. Frying until both sides are golden brown. Careful to heat the pan up until very hot before adding batter to it. The oil should sizzle! Be careful not to flip the latkes over until the edges are slightly browned. Once latkes are cooked, serve each with a scoop of matbucha and fried egg on top. Optional: you can use sliced hard boiled eggs, or poached eggs. For the festival I opted for sliced hard boiled eggs since it was easier to prep in advance and transport however if hosting a Hanukkah party you can use poached eggs, sunny side up, fried eggs or hard boiled eggs.