Falafel Salad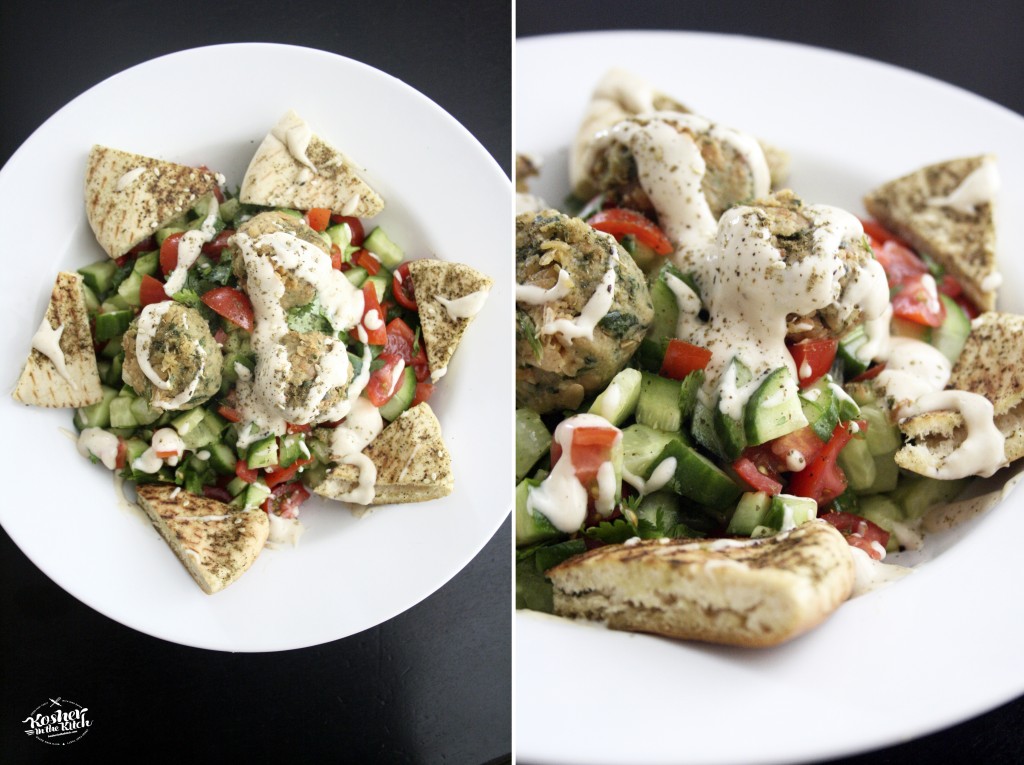 Ingredients:
2 1/2 cups garbanzo beans (cooked chickpeas from a can)
1 small bunch parsley (about 1 cup chopped)
1 small bunch cilantro (about 1 cup chopped)
1/2 t salt
1/4 t chili powder or cayenne pepper
2 t cumin
2 T flour
Directions:
Combine ingredients in a food processor until a paste forms. (it's ok if it's slightly chunky that adds to the texture of the falafel) The flour is meant to bind the ingredients and hold it together. If it falls apart when frying up add more flour to the batter. Using an ice cream scooper, fry up balls of falafel mixture in a small amount of oil until both sides are lightly browned. Serve falafel balls over israeli salad with toasted zaatar pita chips and tahini dressing. Optional, top with freshly chopped parsley.
Israeli Salad:
Dice up cucumbers and tomatoes. Optional, add diced red onion. Combine with olive oil and season with salt and pepper.
Zaatar Pita Chips:
Cut pita into triangle wedges. Toss with olive oil and season with salt and zaatar spice. Place on lined baking sheet and bake on 350′ until toasted.
Lemon Tahini Dressing:
Combine tahini, lemon juice and olive oil.