Chicken with Peanut Sauce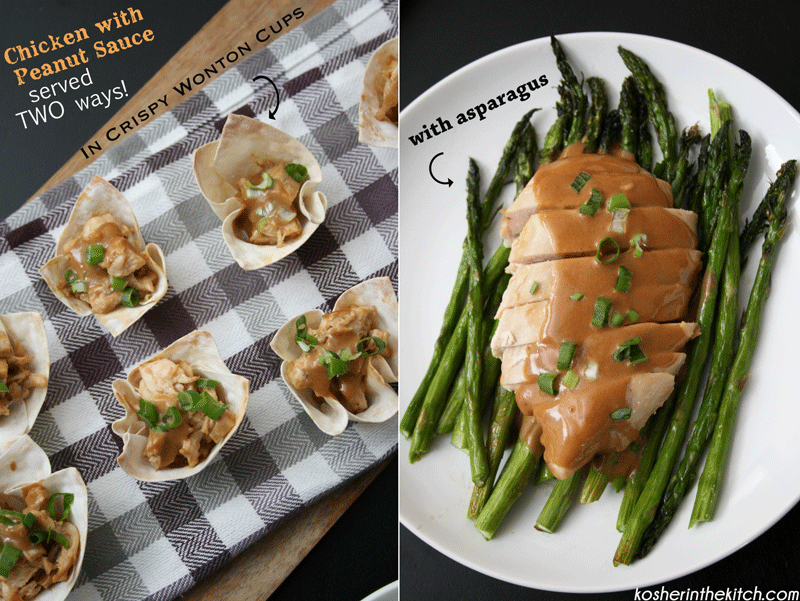 This is a quick and easy recipe for chicken with peanut sauce served TWO ways! You can serve it up with asparagus for a simple yet satisfying dinner or cut up in crispy wonton cups for easy and delicious entertaining.
Ingredients:
4 pieces skinless boneless chicken breasts
2 tablespoons olive oil
1/4 t salt
1/4 t pepper
Asparagus for serving
Crispy wonton cups for serving
Scallions, chopped for serving
Peanut Sauce:
1/2 cup PB
3 T soy
4 T water
2 T hoisin sauce
1 T sesame oil
Directions:
Marinate chicken with olive oil and salt and pepper in a large ziplock bag. Heat up a frying pan until very hot without oil. Then place chicken breasts in pan. (since it's been marinating in oil it's not necessary to heat the pan with oil. If for some reason you find that the pan needs oil then spray PAM or add more olive oil to pan.) Cook chicken until no longer pink. Remove from pan and set aside.
Combine ingredients for peanut sauce by combining peanut butter with 2 tablespoons soy sauce, 3 tablespoons water, 1 tablespoon hoisin sauce and 1 tablespoon sesame oil. Combine well and taste. I added an additional tablespoon each of hoisin sauce and soy sauce because I wanted a stronger taste, and an additional tablespoon water to thin it out more. Add more or less according to your taste. I suggest starting off with 1/4 cup peanut butter and 1 tablespoon soy sauce and then adding the other ingredients slowly to your liking.
Once you the peanut sauce is prepared, you can serve the chicken sliced over steamed or roasted asparagus with peanut sauce on top or you can cut up the chicken into small pieces and combine with 1 to 2 tablespoons peanut sauce and serve in crispy wonton cups with chopped scallions. (you can also serve the chicken cut up with pasta and some peanut sauce or in a salad with the peanut sauce as a dressing)
Crispy Wonton Cups:
Ingredients:
1 package of wonton wrappers, defrosted
PAM
Mini muffin pan
Directions:
Grease a mini muffin pan with cooking spray. Place one wonton wrapper in each muffin cup. Gently press down and up the sides so it's molded to the muffin cup. Bake in oven on 325′ for 10 minutes until edges are slightly browned and crispy. Then, remove from oven and let cool off. Once cooled off, fill each cup chicken and peanut sauce and top with additional peanut sauce (optional) and chopped scallions.