Reuben Matzo Scramble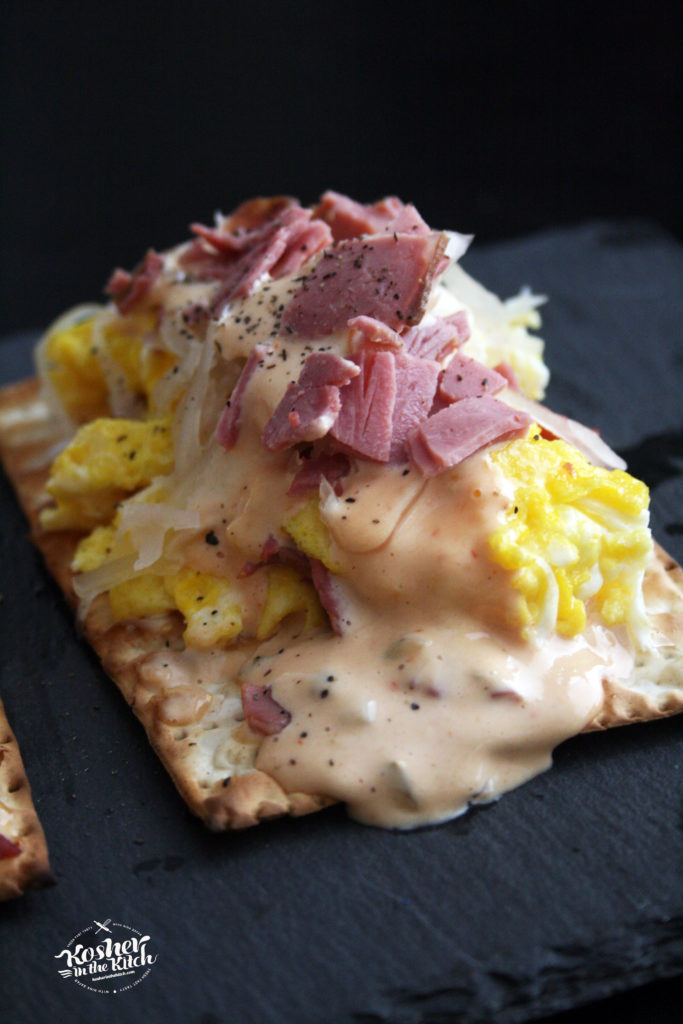 The Reuben gets a Passover makeover by swapping rye bread (which is chometz) for the holiday staple, matzo! The crispy cracker gives the iconic sandwich a satisfying crunch. There is no need to go hungry on Passover, not with dishes like THIS ready to stuff in your mouth.
Ingredients:
4 eggs
4 slices of corned beef, chopped into small pieces
2 pieces of matzo crackers or matzo
Russian Dressing
Sauerkraut
Optional: black pepper for serving
Directions:
Heat up a frying pan with 1 tablespoon oil. Scramble eggs together in large bowl then pour into pan. Let sit in pan a few minutes before swirling eggs around pan. Scramble eggs together then add corned beef pieces to pan (reserving some for serving) Cook for a minute or two so it heats up with the eggs. Remove scrambled eggs and corned beef from pan and set aside. Spread Russian dressing over matzo crackers. Top with scrambled eggs and corned beef mixture. Drizzle additional Place sauerkraut on top then drizzle Russian dressing and add a dash of black pepper.