Garlic Herb Breadsticks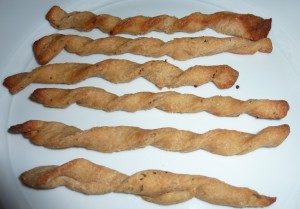 Make this Half Whole Wheat pizza dough recipe (I used 1.5 cups of all purpose flour instead of bread flour): http://rhodeygirltests.com/2009/10/29/whole-wheat-pizza-dough/
Note: I freeze the dough in 4 balls. Each ball makes about 18 breadsticks or a 9 inch person pizza.
Ingredients (other than dough):
Dried thyme
Dried rosemary
Dried parsley
Salt
Pepper
Olive oil
Chopped garlic (from a jar)
Directions:
Preheat oven to 400 degrees. Roll out the dough and sprinkle dried thyme, rosemary, parsley, salt, and pepper on the bottom half of the dough. Fold the top corners down over the spices to match up with the bottom corners. Roll out the dough again to make it as thin as you'd like. Take a knife or pizza cutter and cut the dough into long strips about 1/2 inch wide. Take each strip and twist it by twisting both ends of the strip and put it on a greased pan. Do this for all of the strips. Baste each strip with a mixture of olive oil and chopped garlic. Bake on 400 for 25 minutes.
~ Recipe submitted by S.K.