Burger Salad with Creamy BBQ Dressing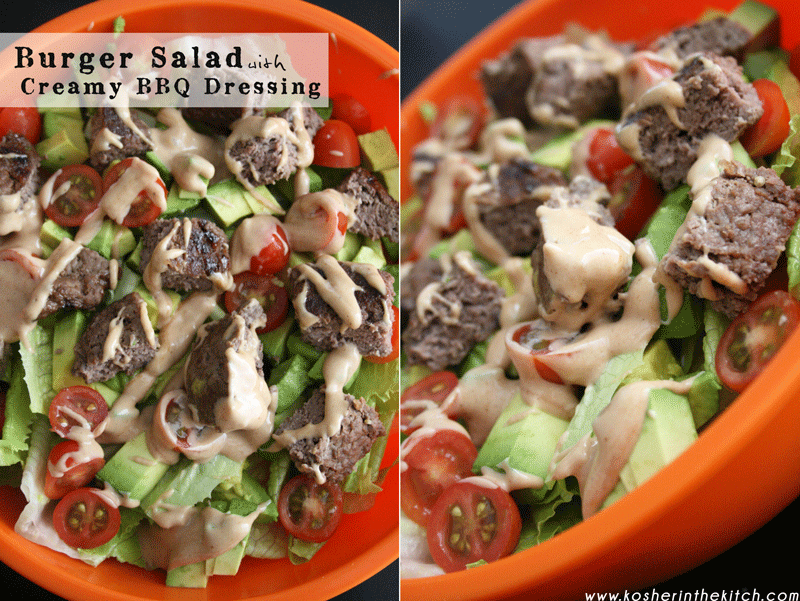 Sometimes recipes are created out of laziness and a desperate need to eat something that is both delicious and satisfying while also low in calories. This salad is about as easy as it gets without skimping on flavor. I cook my burgers on a grill pan until nicely browned on both sides and slightly red in the middle.
Ingredients:
4 burgers, cooked and cut into pieces
1 head of lettuce, chopped
1 avocado, diced
1/2 cup of cherry tomatoes, sliced in half
1/4 of mayo
1/4 cup bbq sauce
1/4 cup ketchup
Directions:
Place lettuce in serving bowl. Top with burger pieces, avocado and tomatoes. Combine mayo, bbq sauce and ketchup and dress salad before serving.
Tips & Tricks: Add crushed tortilla chips for a fun crunch! If you want to keep it healthy, swap chips for whole wheat flatbread crackers or slivered almonds. You can also caramelize onions and add them to the salad. Diced pickled add a fantastic crunch!
~ Recipe submitted by Nina Safar