Family Style Chocolate Cake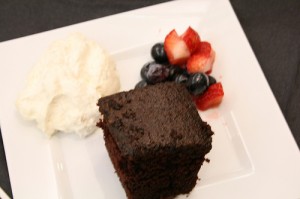 This is a very special recipe to me as it has been in my family for years and years, going back some generations. Evryone who eats it seems to love it.
2 Cups Flour
2 Cups Sugar
1/2 Cup Oil
2/3 Cup Cocoa
1 tsp Baking Powder
1 1/2 tsp Baking Soda
Disolve Tsp Coffee in 1/2 Cup Hot Water
1 Cup Warm Water
Pinch Salt
3 Eggs
2 Tsp Vanilla Sugar
Once Baked, I serve it with my recipe of whipped cream and fresh fruit.
Cream
2 cups whipping cream
2 cups pareve cream cheese
1 vanilla Pudding
1/2 cup confectionary sugar
Fruit
Blueberries
Strawberries
Mix with sugar
~ Recipe submitted by Shoshe Ben-Abou