Parve Mousse – Tastes Like Milchig!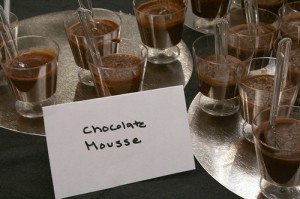 1/2 Cup Rice Milk
1/4 Tsp Espresso powder
1-2 Tbsp Sugar, as preferred 
1 Cup Bittersweet Chocolate Chips
3 Large egg whites
1. Place chocolate chips in blender
2. Heat milk, espresso and sugar until hot, not boiling
3. Pour milk mixture over chocolate chips and blend briefly
4. Add egg whites to blender and blend on high 1 minute or a little more
5. Transfer mixture to desert cups and refrigerate for a few hours, until firm.
Enjoy!
~ Recipe submitted by Etti Hazan Goldfarb